The Water Horse (Paperback)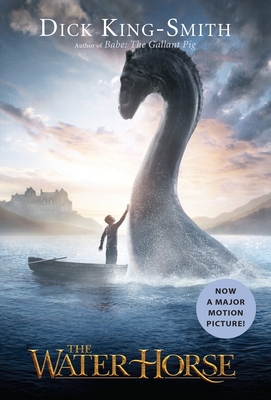 $7.99
Email or call for price.
Description
---
Dick King-Smith's classic story about a very unusual pet—a water horse!—returns with a charming new cover to win over a new generation of readers!
 
When eight-year-old Kirstie finds a strange egg near her home, she has no idea what will come out. Part horse, part toad, part turtle, and part crocodile? Only Kirstie's grandfather knows what it is: a water horse! While it is certainly the oddest-looking creature Kirstie has ever seen, it is also the gentlest. But soon, the unusual pet gets bigger. And bigger. And BIGGER. Will Kirstie and her family be able to keep their new pet or will he have to make a splash in someone else's home?
 
"A rich, mostly tender fairy tale that combines elements of such children's classics as The Secret of Roan Inish, E.T.: The Extra-Terrestrial, and Born Free. . . . Combining the best of fantasy and somber reflection, The Water Horse is a lovely ride." —The Washington Post on the film adaptation
 
"Well-written, fast-paced . . . with appealing, distinctive characters, humor, and drama. King-Smith's imaginative spin on an old myth makes the outrageous possible." —Booklist 
 
"One of the most delightful children's authors." —The Guardian on Dick King-Smith
About the Author
---
Dick King-Smith was born and raised in Gloucestershire, England. After twenty years as a farmer, he turned to teaching and then to writing children's books that have received critical acclaim on both sides of the Atlantic. Among his well-loved novels are Babe: The Gallant Pig, Harry's Mad, Martin's Mice, Ace: The Very Important Pig, The Robber Boy, The Invisible Dog, Three Terrible Trins, Harriet's Hare, The Stray, A Mouse Called Wolf, and Mr. Ape. Mr. King-Smith passed in away in 2011, but his stories live on.
Praise For…
---
"A rich, mostly tender fairy tale that combines elements of such children's classics as The Secret of Roan Inish, E.T.: The Extra-Terrestrial, and Born Free. . . . Combining the best of fantasy and somber reflection, The Water Horse is a lovely ride." —The Washington Post on the film adaptation
 
"Well-written, fast-paced . . . with appealing, distinctive characters, humor, and drama. King-Smith's imaginative spin on an old myth makes the outrageous possible." —Booklist 
 
"One of the most delightful children's authors." —The Guardian on Dick King-Smith