The Seven Keys of Balabad (Paperback)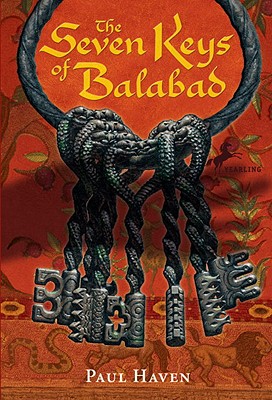 $6.99
Email or call for price.
Description
---
Inspired by the years he spent in Afghanistan and Pakistan as bureau chief with The Associated Press, Paul Haven's intricately crafted tale is filled with details of everyday life in this remote and frequently overlooked part of the world. Loosely based on the legendary Golden Hoard of Bactria--the renowned hidden treasure discovered in northern Afghanistan in 1978--this fast-paced middle-grade novel will appeal to readers who like their twists and turns filled with mysterious characters, exotic locales, and an utterly relatable protagonist.
Welcome to Balabad, birthplace of the international secret society known as the Brotherhood of Arachosia--and rumored hiding place of the grandest riches the world has ever known. Balabad is also the country Oliver Finch has called home ever since his father was reassigned to this dull, war-torn dust bowl. Each day runs into the next for Oliver until a five-hundred-year-old sacred carpet is stolen. Then one of the few friends he has disappears. Oliver is determined to figure out what exactly is going on. But in order to do that he'll have to consult with a one-eyed warrior, track down the far-flung members of the Brotherhood, and unlock a centuries-old secret Suddenly, life in Balabad for Oliver has become a whole lot more interesting . . . and dangerous.
About the Author
---
Born and raised in New York, Paul Haven joined The Associated Press, working and living in Colombia, New York, Pakistan, Afghanistan, and Spain. He currently lives in Cuba with his wife and children.