Tinfoil Butterfly: A Novel (Paperback)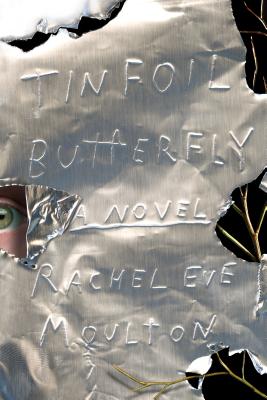 Description
---
"A brutal, incredibly bizarre exploration of insanity, guilt, love, and the darkness inside all of us . . . This novel is a hybrid monster that's part Lovecraftian nightmare and part literary exploration of evil."
—Gabino Iglesias, NPR

Emma is hitchhiking across the United States, trying to outrun a violent, tragic past, when she meets Lowell, the hot-but-dumb driver she hopes will take her as far as the Badlands. But Lowell is not as harmless as he seems, and a vicious scuffle leaves Emma bloody and stranded in an abandoned town in the Black Hills with an out-of-gas van, a loaded gun, and a snowstorm on the way.

The town is eerily quiet and Emma takes shelter in a diner, where she stumbles across Earl, a strange little boy in a tinfoil mask who steals her gun before begging her to help him get rid of "George." As she is pulled deeper into Earl's bizarre, menacing world, the horrors of Emma's past creep closer, and she realizes she can't run forever.

Tinfoil Butterfly is a seductively scary, chilling exploration of evil—how it sneaks in under your skin, flaring up when you least expect it, how it throttles you and won't let go. The beauty of Rachel Eve Moulton's ferocious, harrowing, and surprisingly moving debut is that it teaches us that love can do that, too.
About the Author
---
Rachel Eve Moulton earned her BA at Antioch College and her MFA in fiction from Emerson College. Her work has appeared in The Beacon Street Review, Bellowing Ark, Chicago Quarterly Review, The Bryant Literary Review, among others. Rachel is a recipient of an Individual Artist Grant from the Ohio Arts Council and was a Summer Writing Fellow at the Fine Arts Work Center. Tinfoil Butterfly is her first novel.
Praise For…
---
Shortlisted for the 2019 Shirley Jackson Awards
Longlisted for the Center for Fiction First Novel Prize

"Tinfoil Butterfly crackles like a live wire. It's a raw thriller with a dark heart yet contains a beautiful spark of profound humanity."
—Ivy Pochoda, author of Wonder Valley

"A brutal, incredibly bizarre exploration of insanity, guilt, love, and the darkness inside all of us . . . This novel is a hybrid monster that's part Lovecraftian nightmare and part literary exploration of evil, all set in a town reminiscent of the Silent Hill video games . . . The blood and violence are strong here, but the poetry is just as powerful."
—Gabino Iglesias, NPR

"Unrelenting and artfully crafted, this haunting debut and its tortured protagonist easily cement Moulton as a must-read writer in the horror genre. . . The narrative, both disturbing and irresistible, is propelled by these two well-imagined characters and their need for each other. This is a gripping tale of terribly human horrors."
—Publishers Weekly, starred review

"Reading Tinfoil Butterfly is like watching a slick, modern horror movie, in which you start to realize the real terror comes from being a woman in this world and all the negotiations that involves. Clever, timely, disturbing, and thought-provoking."
—Araminta Hall, author of Our Kind of Cruelty

"Rachel Eve Moulton's deliciously terrifying and eerily poetic debut novel about a wounded young woman and the mysterious child she meets on a nightmare stop in the desolate Black Hills is irresistible. Fair warning: The snow comes with blood, the crows can't be trusted, and Tinfoil Butterfly flutters with a dark heartbeat you won't soon forget."
—Julia Heaberlin, author of Black-Eyed Susans and Paper Ghosts

"I have read no book like this. Tinfoil Butterfly took my breath on the first page and never gave it back. A dark adventure story that leads to an epic reckoning, all told in the most taut and vivid prose."
—Jac Jemc, author of False Bingo and The Grip of It

"Vivid and cinematic in its storytelling, Tinfoil Butterfly's breathless and scary stumbling, tumbling journey into horrors had my heart in my mouth the whole way through. And yet the beautifully drawn friendship that evolves between Emma and Earl ensures that this story brims with hope and humanity. An unforgettable read."
—Shirley Barrett, author of The Bus on Thursday