A Swiftly Tilting Planet (A Wrinkle in Time Quintet #4) (Hardcover)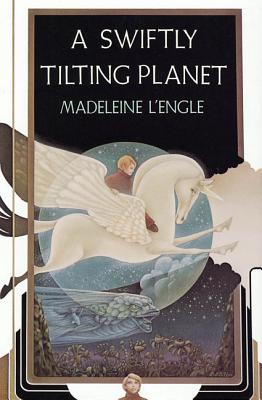 $25.99
Email or call for price.
Other Books in Series
This is book number 4 in the A Wrinkle in Time Quintet series.
Description
---
In A Swiftly Tilting Planet by Madeleine L'Engle, a companion to the Newbery Award winner A Wrinkle in Time and A Wind in the Door, fifteen-year-old Charles Wallace and the unicorn Gaudior undertake a perilous journey through time in a desperate attempt to stop the destruction of the world by the mad dictator Madog Branzillo. They are not alone in their quest. Charles Wallace's sister, Meg--grown and expecting her first child, but still able to enter her brother's thoughts and emotions by "kything"--goes with him in spirit. Charles Wallace must face the ultimate test of his faith and his will as he is sent within four people from another time, there to search for a way to avert the tragedy threatening them all.
About the Author
---
Madeleine L'Engle (1918-2007) was the Newbery Medal-winning author of more than 60 books, including the much-loved A Wrinkle in Time. Born in 1918, L'Engle grew up in New York City, Switzerland, South Carolina and Massachusetts. Her father was a reporter and her mother had studied to be a pianist, and their house was always full of musicians and theater people. L'Engle graduated cum laude from Smith College, then returned to New York to work in the theater. While touring with a play, she wrote her first book, The Small Rain, originally published in 1945. She met her future husband, Hugh Franklin, when they both appeared in The Cherry Orchard. Upon becoming Mrs. Franklin, L'Engle gave up the stage in favor of the typewriter. In the years her three children were growing up, she wrote four more novels. Hugh Franklin temporarily retired from the theater, and the family moved to western Connecticut and for ten years ran a general store. Her book Meet the Austins, an American Library Association Notable Children's Book of 1960, was based on this experience. Her science fantasy classic A Wrinkle in Time was awarded the 1963 Newbery Medal. Two companion novels, A Wind in the Door and A Swiftly Tilting Planet (a Newbery Honor book), complete what has come to be known as The Time Trilogy, a series that continues to grow in popularity with a new generation of readers. Her 1980 book A Ring of Endless Light won the Newbery Honor. L'Engle passed away in 2007 in Litchfield, Connecticut.
Praise For…
---
"Charles Wallace (A Wrinkle in Time), now 15, Meg, and the Murrys reappear in an intricately woven fantasy in which the boy time-spins through a tangle of history to find and mend the broken link that threatens to disturb the harmony of today." —Starred, Booklist