The Mutations: A Novel (Hardcover)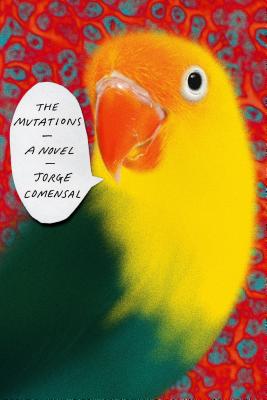 $25.00
Email or call for price.
Description
---
"Jorge Comensal's The Mutations oscillates masterfully between comedy and tragedy, gathering up in its pages a stupendous panoply of characters before whom the reader is never sure whether to smile in sympathy or pity."—Fernando Aramburu, author of Homeland

Ramón Martinez is a militant atheist, successful lawyer, and conventional family man. But all of that changes when cancer of the tongue deprives him of the source of his power and livelihood: speech.

The Mutations, by Jorge Comensal, is a comedy tracing the metastasis of Ramón's cancer through his body and in the lives of his family members, colleagues, and doctors, dissecting the experience of illness and mapping the relationships both strengthened and frayed by its wake. Mateo and Paulina, his teenage children, struggle with the temptations of masturbation and binge eating, respectively. Ramón's melancholic oncologist is haunted by the memory of a young patient whom he was unable to save. His selfish pathologist believes Ramón's tumor holds the key to a major scientific breakthrough. And then there's Elodia, Ramón's pious maid, who brings him a foulmouthed parrot as a birthday gift. This lewd bird becomes Ramón's companion, confidant, and unlikely double.

Paying homage to the works of forebears such as Sontag, Didion, Flaubert, and Tolstoy, and filled with a rough-hewn poetry of regret, rage, and finally resignation, The Mutations offers a profound but funny cross section of modern Mexican life, as well as a bold treatment of an unspeakable yet universal reality
About the Author
---
Jorge Comensal was born in Mexico City in 1987. He has received grants from the Fundación para las Letras Mexicanas and the Fondo Nacional para la Cultura y las Artes. His work has appeared in The Paris Review, Nexos, Revista de la Universidad de México, VICE, and The Literary Review. He is part of the Environmental Board of Este País. His essay "Yonquis de las letras" was published in Spain in 2017.
Praise For…
---
"[A] caustic, pitch-black comic debut." —Sam Sacks, The Wall Street Journal

"A feisty first novel . . . Comensal's brisk, if at times diffusive, storytelling — in a translation by Charlotte Whittle that conveys both his blunt and sharp humor — coheres around the question of how a person (as well as his family members, friends and colleagues) deals with the felt and future consequences of sudden dire news . . . the funny, messy unexpectedness of life, death and potty-mouthed pet birds." —Randy Boyagoda, The New York Times

"[A] promising, frustrating, and ultimately moving debut. It's a novel brightly alert to the conflict between the storyteller's imperatives and the raw facts of disease." —Garth Risk Hallberg, Air Mail

"The Mutations is a wonderful novel, as tragic as it is comic, as classical as it is contemporary, and above all impossible to forget. After reading it, you'll wish that there were many more novels by Jorge Comensal ready for you to enjoy—but since this is his first, we'll just have to wait patiently till his next brilliant book is done." —Alejandro Zambra, author of Multiple Choice

"Sharp, hilarious, yet sensitive—an amazing first novel!" —Guadalupe Nettel, author of After the Winter

"Punchy . . . The novel gets its comic charge from blunt and colorful descriptions of emotional situations that in other fiction would dictate long and evocative passages. Sidestepping sentimentality and elaborate emotional expression, Comensal brings comic compassion to his treatment of contemporary neuroses." —Publishers Weekly

"Quietly powerful . . . An assured debut by a writer from whom readers will want to hear more, and soon." —Kirkus Reviews

"Effortlessly elevating his tale to the rarefied heights of Flaubert, Tolstoy, and Ravel only to plunge the bawdy depths of the rawest profanity while peppering his narration with erudite discussions of the mysteries of genetics, Comensal has written a fearlessly irreverent and unexpectedly deep novel about a family's blundering with the most atavistic of challenges." —Sara Martinez, Booklist

"Through the story of an illness and an exploration of the fear of death, Jorge Comensal has created a world both absurd and hilarious, yet one that also touches on our darkest emotions. The Mutations is one of the greatest Latin American novels of recent years." —Daniel Saldaña París, author of Among Strange Victims

"Jorge Comensal's The Mutations oscillates masterfully between comedy and tragedy, gathering up in its pages a stupendous panoply of characters before whom the reader is never sure whether to smile in sympathy or pity." —Fernando Aramburu, author of Homeland

"The Mutations is a speculative exercise, implacable as cancer itself, on the limits of compassion. An uncompromising inquiry that tries to answer a sinister, almost eschatological question: What to do when faced with the news of an incurable disease?" —Juan Pablo Villalobos, author of I'll Sell You a Dog

"No contemporary Mexican novel has impressed me as much as Jorge Comensal's The Mutations. Barely exceeding 200 pages, this debut novel is both hilarious and funereal, a clinical history turned portrait of death." —Christopher Domínguez Michael, El Universal