The Patient (Paperback)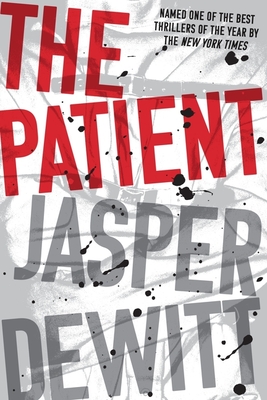 $18.99

In Our Warehouse - Expected arrival in 2-5 days
Description
---
The Silent Patient by way of Stephen King: Parker, a young, overconfident psychiatrist new to his job at a mental asylum miscalculates catastrophically when he undertakes curing a mysterious and profoundly dangerous patient.

In a series of online posts, Parker H., a young psychiatrist, chronicles the harrowing account of his time working at a dreary mental hospital in New England. Through this internet message board, Parker hopes to communicate with the world his effort to cure one bewildering patient.

We learn, as Parker did on his first day at the hospital, of the facility's most difficult, profoundly dangerous case—a forty-year-old man who was originally admitted to the hospital at age six. This patient has no known diagnosis. His symptoms seem to evolve over time. Every person who has attempted to treat him has been driven to madness or suicide.

Desperate and fearful, the hospital's directors keep him strictly confined and allow minimal contact with staff for their own safety, convinced that releasing him would unleash catastrophe upon the outside world. Parker, brilliant and overconfident, takes it upon himself to discover what ails this patient and finally cure him. But from his first encounter with the mysterious patient, things spiral out of control and, facing a possibility beyond his wildest imaginings, Parker is forced to question everything he thought he knew.

Fans of Sarah Pinborough's Behind Her Eyes and Paul Tremblay's The Cabin at the End of the World will be riveted by Jasper DeWitt's astonishing debut.
About the Author
---
JASPER DEWITT lives in New York City. This is his first novel.
Praise For…
---
A Library Journal Winter/Spring Best Debut Novel "Delightfully bonkers."—The New York Times Book Review "Crisp and creepy debut...the central plot and storytelling are gripping, built on smart psychological parrying and good old-fashioned gross-outs...entertainingly intense. A clever cocktail of psychological thriller and supernatural horror." —Kirkus Reviews "Taut debut...Fans of Alex Michaelides's The Silent Patient will want to check this one out." —Publishers Weekly "DeWitt imbues the narrative with existential horror, and its creeping dread will linger in readers' minds. Fans of Alex Michaelides' The Silent Patient (2019) and Zoje Stage's Baby Teeth (2018) will gobble this one up." —Booklist "A bone chiller."—Library Journal "The Patient is a narrative of slowly building horror that will grip the reader with a continuous set of shivers."—New York Journal of Books "A stunning debut! DeWitt's The Patient is a thrilling, compulsive page-turner that will appeal to fans of F. Paul Wilson, Sarah Pinborough, and Alex Michaelides." —Brian Keene, best-selling author and World Horror Grandmaster Award winner "'Insidious evil' is such an overused term, but there is no other way to describe what prowls the hallways of this riveting novella. A compulsive read I devoured in one day. And the ending . . . it still haunts me." —F. Paul Wilson, New York Times best-selling creator of the Repairman Jack series "The Patient is a fascinating and frightening read that comes at you like the monster under your bed." —Reed Farrel Coleman, New York Times bestselling author —