Just Like Us! Crocs (Paperback)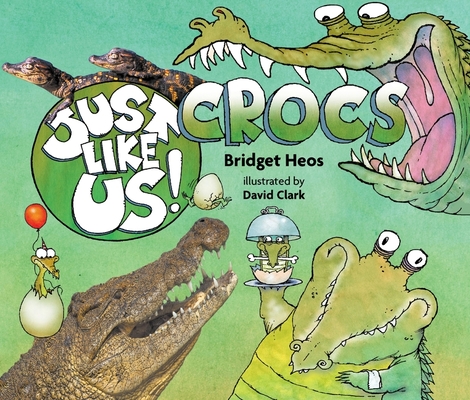 Description
---
Get the scoop on some of nature's most fearsome predators and discover the unexpected ways humans and crocodilians are similar in Just Like Us! Crocs. Appealing mix of photographs and cartoon illustrations.  

What animals love to bask in the sun, cool off with a quick swim, and don't always get along with their siblings? CROCS! While they might seem as different from us as animals can possibly be, we actually have a lot in common with our crocodilian comrades—alligators, crocodiles, muggers, caimans, and gharials. From tending to their young, to surfing a wave, crocodilians are a lot like us—though with fascinating twists all their own.
 
Factual, funny, and featuring a dynamic mix of photographs and cartoon illustrations, Just Like Us! Crocs will charm even the most reluctant nonfiction readers.
 
About the Author
---
Bridget Heos is the author of more than 100 books for kids, including the popular Mustache Baby books and the nonfiction Just Like Us! series. She lives in Kansas City, Missouri, with her husband and four children.
authorbridgetheos.com
Twitter @bridgetheos

David Clark is the author of numerous books for young readers. He lives in Virginia with his family. You can learn more about him at sites.google.com/site/davidclark1988.