Taking Shots: The Assassins Series (Mass Market)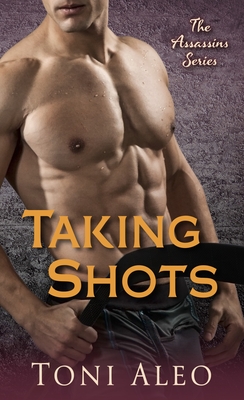 $13.99
Email or call for price.
Other Books in Series
This is book number 1 in the Assassins series.
Description
---
In New York Times and USA Today bestselling author Toni Aleo's exhilarating Loveswept debut, the first in a series featuring the hockey hunks of the Nashville Assassins, a reformed bad boy helps a charming, willful woman face off against the demons of her past.
 
No matter how hard she tries, Elleanor Fisher never thinks she's good enough, from her job to her weight to her love life. After enduring years of abuse at the hands of an ex-boyfriend, Elli has been drifting through life in a daze. Until, that is, she meets Shea Adler on a promotional shoot for the NHL's Nashville Assassins. Before Elli knows what's happening, the gorgeous Shea breaks the ice and shatters her world.
 
A brilliant athlete inside the rink, Shea Adler is tired of the life he's living outside of it: the women, the money, the drinking. But everything changes when he meets Elli. After laying eyes on this feisty, witty, beautiful woman, he feels like he's just taken the hardest hit of his life. No matter how skeptical she is, Shea knows they are meant to be together—if only he can convince Elli to put her insecurities aside before she misses out on a shot at love.

Praise for Toni Aleo's Nashville Assassins romances
 
"Aleo melts the ice and hits it into the net with her Assassins series."—Award-winning author Jami Davenport
 
"Taking Shots is really the whole package. You get romance, humor, steamy sex, drama, and then it all wraps up with a great conclusion. I am amazed that this is Toni's first book. She has come out in a huge way. I can't wait to read more from her. Don't hesitate for a moment to grab this book."—Guilty Pleasures Book Reviews
 
"A little steamy, a little heartbreaking, and a whole lot of fanning yourself are in order this time around, readers. Are your cheeks feeling a little pink yet? Get used to the feeling."—Dreaming in the Pages, on Trying to Score
 
"Empty Net is an honest, heartwarming, endearing story. . . . Toni Aleo doesn't just write a story. She gives you the ability to experience the journey of her characters right along with them. Her stories are enveloped with passion, emotion, humor, love; and let me tell you, that girl knows how to write a sex scene that just makes you sweat!"—Guilty Pleasures Book Review
 
"Sexy and riveting . . . the perfect combination of love and lust."—USA Today bestselling author Heidi McLaughlin, on Blue Lines
 
"Funny, charming, sweet, sexy . . . [Falling for the Backup] has everything you want in a story."—Blushing Reader
About the Author
---
Toni Aleo is the New York Times and USA Today bestselling author of the Nasvhille Assassins series: Taking Shots, Trying to Score, Empty Net, Falling for the Backup, and Blue Lines. When not rooting for her beloved Nashville Predators, she's probably going to her husband's and son's hockey games and her daughter's dance competitions, taking pictures, scrapbooking, or reading the latest romance novel. Aleo lives in the Nashville area with her husband, two children, and a bulldog.
Praise For…
---
Praise for Toni Aleo's Nashville Assassins romances
 
"Aleo melts the ice and hits it into the net with her Assassins series."—Award-winning author Jami Davenport
 
"Taking Shots is really the whole package. You get romance, humor, steamy sex, drama, and then it all wraps up with a great conclusion. I am amazed that this is Toni's first book. She has come out in a huge way. I can't wait to read more from her. Don't hesitate for a moment to grab this book."—Guilty Pleasures Book Reviews
 
"A little steamy, a little heartbreaking, and a whole lot of fanning yourself are in order this time around, readers. Are your cheeks feeling a little pink yet? Get used to the feeling."—Dreaming in the Pages, on Trying to Score
 
"Empty Net is an honest, heartwarming, endearing story. . . . Toni Aleo doesn't just write a story. She gives you the ability to experience the journey of her characters right along with them. Her stories are enveloped with passion, emotion, humor, love; and let me tell you, that girl knows how to write a sex scene that just makes you sweat!"—Guilty Pleasures Book Review
 
"Sexy and riveting . . . the perfect combination of love and lust."—USA Today bestselling author Heidi McLaughlin, on Blue Lines
 
"Funny, charming, sweet, sexy . . . [Falling for the Backup] has everything you want in a story."—Blushing Reader