Darwin's Radio: A Novel (Mass Market)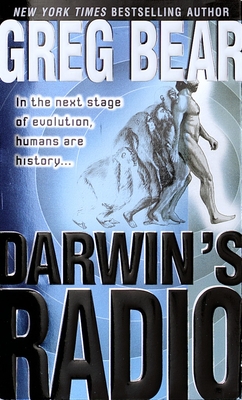 Email or call for price.
Not Available at This Time
Description
---
A 2000 HUGO AWARD NOMINEE

Ancient diseases encoded in the DNA of humans wait like sleeping dragons to wake and infect again--or so molecular biologist Kaye Lang believes. And now it looks as if her controversial theory is in fact chilling reality. For Christopher Dicken, a "virus hunter" at the Epidemic Intelligence Service, has pursued an elusive flu-like disease that strikes down expectant mothers and their offspring. Then a major discovery high in the Alps --the preserved bodies of a prehistoric family--reveals a shocking link: something that has slept in our genes for millions of years is waking up.

Now, as the outbreak of this terrifying disease threatens to become a deadly epidemic, Dicken and Lang must race against time to assemble the pieces of a puzzle only they are equipped to solve--an evolutionary puzzle that will determine the future of the human race . . . if a future exists at all.
About the Author
---
Greg Bear is the author of twenty-four books, which have been translated into a dozen languages. He has been awarded two Hugos and four Nebulas for his fiction. He was called the "best working writer of hard science fiction" by The Ultimate Encyclopedia of Science Fiction. He is married to Astrid Anderson Bear. They are the parents of two children, Erik and Alexandra. Darwin's Radio is a 2000 Hugo Award nominee.
Praise For…
---
"A masterpiece . . . Fascinating."
--USA Today

"[A] RIVETING, NEAR-FUTURE THRILLER."
--Publishers Weekly (starred review)

"VINTAGE BEAR . . . [His] characters are as complex as his ideas."
--The Seattle Times

"ABSORBING AND INGENIOUS."
--Kirkus Reviews

"BEAR IS ONE OF OUR VERY BEST, AND MOST INNOVATIVE, SPECULATIVE WRITERS."
--New York Daily News

"A WRITER FOR ANYONE CONCERNED WITH THE HUMAN CONDITION."
--Seattle Post-Intelligencer

"IF ANYONE IS THE COMPLETE MASTER OF THE GRAND-SCALE SF NOVEL, IT'S BEAR."
--Booklist