The Vampire Armand (Vampire Chronicles #6) (Mass Market)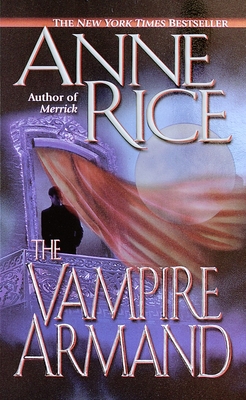 $8.99
Email or call for price.
Other Books in Series
This is book number 6 in the Vampire Chronicles series.
Description
---
In the latest installment of The Vampire Chronicles, Anne Rice summons up dazzling worlds to bring us the story of Armand - eternally young, with the face of a Botticelli angel. Armand, who first appeared in all his dark glory more than twenty years ago in the now-classic Interview with the Vampire, the first of The Vampire Chronicles, the novel that established its author worldwide as a magnificent storyteller and creator of magical realms.

Now, we go with Armand across the centuries to the Kiev Rus of his boyhood - a ruined city under Mongol dominion - and to ancient Constantinople, where Tartar raiders sell him into slavery. And in a magnificent palazzo in the Venice of the Renaissance we see him emotionally and intellectually in thrall to the great vampire Marius, who masquerades among humankind as a mysterious, reclusive painter and who will bestow upon Armand the gift of vampiric blood.

As the novel races to its climax, moving through scenes of luxury and elegance, of ambush, fire, and devil worship to nineteenth-century Paris and today's New Orleans, we see its eternally vulnerable and romantic hero forced to choose between his twilight immortality and the salvation of his immortal soul.
About the Author
---
Anne Rice is the author of thirty-seven books, including the Vampire Chronicles, the Lives of the Mayfair Witches, and the Wolf Gift book series. Rice was born in New Orleans in 1941 and grew up there and in Texas. She lived in San Francisco with her husband, the poet and painter, Stan Rice until 1988, when they returned to New Orleans to live with their son, Christopher. In 2006, Rice moved to Rancho Mirage, California. She died in 2021.
Praise For…
---
"VIVID, EVOCATIVE."
--USA Today

"ARMAND'S LIFE UNFOLDS IN RICH, VELVETY PROSE. . . . THIS IS A SUMPTUOUS ADDITION TO THE SERIES."
--Library Journal

"ANNE RICE FANS WILL NO DOUBT BE THRILLED. . . . [Armand] until now has played a small role in the Vampire Chronicles. Here he assumes center stage, relating his five hundred years of life to fledgling vampire David Talbot, who plays amanuensis to Armand as he did to Lestat. . . . It's not just the epic plot but Rice's voluptuary worldview that's the main attraction. . . . Elegant narrative has always been her hallmark. . . . Rice is equally effective in showing how Armand eventually loses his religion and becomes 'the vagabond angel child of Satan,' living under the Paris cemeteries and founding the Grand Guignol-ish Théâtre des Vampires. In the twentieth century, a rehabilitated Armand regains his faith but falls in love with two children who save his life. By the conclusion of Armand, the pupil has become the mentor."
--The Washington Post

"A FASCINATING AND DAZZLING HISTORICAL TAPESTRY . . . BEAUTIFULLY WRITTEN, INCREDIBLY ABSORBING."
--Booklist