The Invisible Web: A Story Celebrating Love and Universal Connection (The Invisible String) (Hardcover)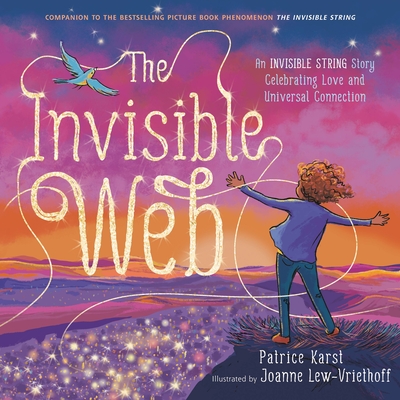 Email or call for price.
Not Available at This Time
Description
---
From the author of the picture book phenomenon The Invisible String, which has sold half a million copies to date, comes a moving companion title about our connections to each other, to the world, and to the universe.

For twenty years, the modern classic The Invisible String has helped hundreds of thousands of children and adults understand that they are connected to the ones they love, no matter how far apart they are. Now, the author of that bestselling phenomenon uses the same effective bonding technique to explain the very best news of all: All of our strings to one another are interconnected in The Invisible Web. "It breathes as we breathe, pulsating all over our Earth, the single heartbeat of life and love. And do you know what that makes us all? One Very Big Family!"

This uplifting inspirational title for all ages puts the concept of "six degrees of separation" into a new context that urges readers to recognize, respect, and celebrate their infinite, unbreakable bonds with the entire human family.
Don't miss these other books by Patrice Karst!The Invisible StringThe Invisible String Workbook: Creative Activities to Comfort, Calm, and ConnectThe Invisible Leash: A Story Celebrating Love After the Loss of a Pet
About the Author
---
Patrice Karst is the bestselling author of The Invisible String, The Invisible Leash, The Invisible Web, You Are Never Alone: An Invisible String Lullaby, and co-author of The Invisible String Workbook. She has also written The Smile That Went Around the World. Patrice is passionate about spreading her message of love across the planet. Born in London, England, she now lives in Southern California, and is the mother of one grown son. She invites you to visit her online at patricekarst.com.
Joanne Lew-Vriethoff is the acclaimed illustrator of many children's books, including the new edition of The Invisible String, The Invisible Leash, The Invisible Web, You Are Never Alone: An Invisible String Lullaby, and the Invisible String Workbook, as well as Stacy McAnulty's Beautiful and Brave. Born in Malaysia, she grew up in Los Angeles, studied at the ArtCenter College of Design in Pasadena, and now lives in Amsterdam. Her website is joannelewvriethoff.com.
Praise For…
---
Praise for The Invisible String:

"If I could only have one book to use for counseling purposes, this would be it. This book is extremely versatile. It can be used for any type of separation, loss." ---United Way (Life Lessons for Little Ones)

"Delivers a particularly compelling message in today's uncertain times that though we may be separated from the ones we care for, love is the unending connection that binds us all." ---The American Academy of Pediatrics

"Children of all ages (and yes, adults too!) feel a great sense of peace and joy realizing that we are all connected to the ones we love through The Invisible String." ---The National Association of School Psychologists

"A wonderful storybook for children experiencing separation anxiety." ---Today's Parent

"The message of The Invisible String resonates with children and adults alike.... The two ends of the treasured Invisible String are families and schools. This String, reinforced on each side, buoys students with love, guidance, direction. But when one end weakens, the entire String falters.... When we need support, reassurance, or simply a kindred spirit, just give the String a tug and someone will tug back. This is powerful, and will keep your child on track through...his or her education journey." ---Carmen Fariña, Former Chancellor, NYC Department of Education