28 Summers (Large Print / Hardcover)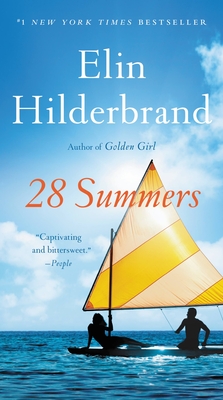 $48.00
Email or call for price.
Description
---
A "captivating and bittersweet" novel by the #1 New York Times bestselling author of Summer of '69: Their secret love affair has lasted for decades—but this could be the summer that changes everything (People).

When Mallory Blessing's son, Link, receives deathbed instructions from his mother to call a number on a slip of paper in her desk drawer, he's not sure what to expect. But he certainly does not expect Jake McCloud to answer. It's the late spring of 2020 and Jake's wife, Ursula DeGournsey, is the frontrunner in the upcoming Presidential election.

There must be a mistake, Link thinks. How do Mallory and Jake know each other?

Flash back to the sweet summer of 1993: Mallory has just inherited a beachfront cottage on Nantucket from her aunt, and she agrees to host her brother's bachelor party. Cooper's friend from college, Jake McCloud, attends, and Jake and Mallory form a bond that will persevere—through marriage, children, and Ursula's stratospheric political rise—until Mallory learns she's dying.

Based on the classic film Same Time Next Year (which Mallory and Jake watch every summer), 28 Summers explores the agony and romance of a one-weekend-per-year affair and the dramatic ways this relationship complicates and enriches their lives, and the lives of the people they love.
About the Author
---
Elin Hilderbrand spent her first summer on Nantucket Island in 1993 and has lived there year-round for twenty-six years. She's the mother of three, an enthusiastic at-home cook, and a six-year breast cancer survivor. 28Summers is her twenty-fifth novel.
Praise For…
---
"Summer on Hilderbrand's Nantucket is never dull. This time she focuses on former lovers who now lead separate lives but share an island idyll once a year. Captivating and bittersweet."—People

"This sweeping love story is Hilderbrand's best ever. . . Her stories are relatable in an aspirational way, but her attention to detail is what makes her characters feel like living, breathing people you want to know. They would never skimp on citronella candles; they would save the least creaky rocking chair for you."—Elisabeth Egan, New York Times Book Review

"Hilderbrand steers this tightly written novel with ease and skill. . . . Less a story about a secretive affair and more a tale of sweet nostalgia and fate, this title will be popular with a wide audience."—Library Journal

"In her 25th novel, Hilderbrand gets everything right and leaves her ardent fans hungry for No. 26. Hilderbrand sets the gold standard in escapist fiction."—Kirkus Reviews

Praise for Summer of '69:

"Superb...Hilderbrand hits all the right notes about life in a tightly knit family, and this crowd-pleaser is sure to satisfy both her fans and newcomers alike."—Publishers Weekly, starred review

"HIGH-DEMAND BACKSTORY: Hilderbrand's first foray into historical fiction will rouse curiosity in new readers as well as devotees of her annual summer smashes."—Susan Maguire, Booklist

"Hilderbrand's characters are utterly convincing and immediately draw us into their problems, from petty to grave...To use the parlance of the period, a highly relevant retrospective."
—Kirkus

Praise for The Perfect Couple:

"A quintessential summer read."
—People

"One of this summer's must-reads that is all at once quick paced, compulsively readable, and thought provoking. An entertaining yet observant look at the surprising secrets that can fester and erupt in marriage."—Patriot-Ledger

"Elin Hilderbrand's fans can expect a twist on the beach this summer with her new book"—CBS News

"a sizzling summer read fans won't want to miss"—Bustle

"The Perfect Couple proves that Elin Hilderbrand is the queen of the summer beach read"—WFMY News 2

Praise for THE IDENTICALS:


"A sun-drenched treat."
—Kim Hubbard, People

"Another Hilderbrand beach hit."
—Jocelyn McClurg, USA Today, 10 Hot Books You Won't Want to Miss This Summer

"Engaging family relationships mixed with vivid landscape descriptions create an effortless read."
—Library Journal

"I was captivated. I finished it in a day...I longed to stay forever in fake-real Nantucket with Tabitha and Harper and Eleanor and Ainsley."—Sam Anderson, New York Times Magazine

"Hilderbrand is the queen of the smart beach read, and her latest is no exception."—Entertainment Weekly