Paradise-1 (Red Space #1) (Paperback)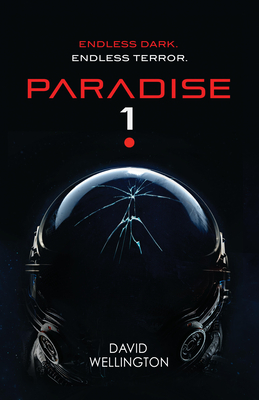 $18.99

In Our Warehouse - Expected arrival in 2-5 days
Description
---
An electric blend of sci-fi and horror, Paradise-1 begins a terrifying new trilogy of exploration and survival in deep space from Arthur C. Clarke Award-nominated author David Wellington.

"A superior space thriller that never flags....Readers will be on the edge of their seats." —Publishers Weekly (starred review)
Paradise-1. Earth's first deep space colony. For thousands of people, it was an opportunity for a new life. Until it went dark.
No communication has been received from the colony for months. And it falls to Firewatch inspector Alexandra Petrova and the crew of the Artemis to investigate.
What they find is more horrifying than anything they could have imagined.
About the Author
---
David Wellington is an acclaimed author who has previously published over twenty novels in different genres.
Praise For…
---
"Wellington skillfully combines hard sci-fi worldbuilding with tense mystery for a superior space thriller that never flags...[he] excels at vivid descriptions, which further enhance the clever plot. Readers will be on the edges of their seats."—Publishers Weekly (Starred Review)

"A suspenseful, fast-paced story of first contact....A race against time to save humankind, a veteran astronaut trying to make things right, and an utterly strange and genuinely horrifying alien world to explore--this story's got everything."—Kirkus on The Last Astronaut

"An ever-fascinating whirlwind with tantalizing clues about some of the series' biggest mysteries."—BookPage

"Timely and terrifying, The Last Astronaut propels us deep into the mysteries of space for a near-future SF/horror hybrid that's breathless, compulsive reading. This book deserves to be the one you see everyone reading on the subway or at the beach."—Christopher Golden, New York Times bestselling author of The Pandora Room and Ararat, on The Last Astronaut

"If Stephen King had written a haunted house story set in space, it would look very much like The Last Astronaut. Written with an uncompromising, white-knuckled pace, here is book that will leave you shaking and looking at the cold depths of space with equal parts horror and wonder."—James Rollins, #1 New York Times bestselling author of Crucible, on The Last Astronaut

"Wellington deftly plays with scale, from the aching intimacy of his human cast to the vastness of space and the enormity of their destination. Journey into a phantasmagorical alien landscape, where paranoia, loss, longing, and resolve interweave into endlessly shifting and always more terrifying configurations."—Caitlin Starling, author of The Luminous Dead, on The Last Astronaut

"A gripping story that reveals its horrors one inexorable, plausible detail at a time. Readers will be riveted - and will want to keep all the lights on."—Publishers Weekly (starred review) on The Last Astronaut

"This is sci-fi horror at its most terrifying-if only because the science behind it is grounded and all-too-possible."—B&N SciFi & Fantasy Blog, on The Last Astronaut

"The Last Astronaut bridges the worlds of science fiction and horror perfectly--Wellington melds the awe of discovery with the terror of the unknown to keep readers riveted to every page."—Fred Van Lente, New York Times bestselling author of The Con Artist, on The Last Astronaut

"It takes guts to put a monster story inside a science-fiction novel, and Wellington pulls it off spectacularly."—Winnipeg Free Press

"A fun, huge, fast novel set in an interesting world plagued with interesting problems...Paradise-1 leaves readers hungry for more."—Primmlife

"This is one of the best sci-fi books of the year that manages to get better with every page and an ending that will literally give you chills."—Just Another Damn Book Blog