Neck & Neck (Hardcover)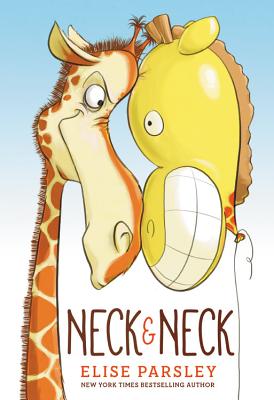 Description
---
In this crowd-pleasing read-aloud from the creator of the bestselling If You Ever Want to Bring an Alligator to School, Don't!, a giraffe's self-esteem is tested during a hilarious confrontation between unlikely look-alikes!

Everybody loves Leopold the giraffe. He inspires awe and wonder. His adoring fans gaze and cheer. Best of all, they feed him lots of deeeelicious snacks! But, one day, a shiny, bobble-headed new rival comes in and ruins everything...a giraffe-shaped balloon! Just how far will Leopold go to prove that he's the hero of the zoo? Readers learn that actions speak far louder than looks in this laugh-out-loud face-off from Elise Parsley--the New York Times bestselling creator of the Magnolia Says DON'T! series.
About the Author
---
Elise Parsley has written and illustrated the New York Times bestseller If You Ever Want to Bring an Alligator to School, DON'T! and three other stories about Magnolia, as well as Neck & Neck. She also illustrated The Magic Word by Mac Barnett. Elise and her family live in South Dakota, and she invites you to visit her website at eliseparsley.com.
Praise For…
---
An Amazon Best Book of June 2018A Redbud Primary Read-Aloud Award 2019 Masterlist Selection
2019-2020 Washington Children's Choice Picture Book Award Nominee

—
-
"Parsley's...tale deals with some serious issues that are treated comically. ...A lighthearted foray into the difficulties of zoo life and--more to the point--peer behavior."
—
Kirkus Reviews
"Hilarious...a laugh on each spread. And readers will cheer on Leopold as he opts to take the high road--and ends up on top."
—
Publishers Weekly
"An energetic, relatable tale with multiple surprises that forces readers to think about how they handle competition...excellent."
—
School Library Journal