The Last Guests (Hardcover)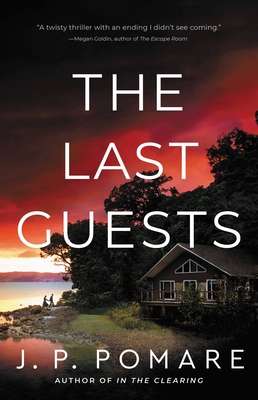 $28.00
Coming Soon - Available for Pre-Order Now
Description
---
In this thrilling novel for fans of Megan Miranda, a wife finds herself racing for answers when the decision to rent out her family vacation home takes a deadly turn.

Newlyweds Lina and Cain don't make it out to their vacation home on gorgeous Lake Tarawera as often as they'd like, so when Cain suggests they rent the property out on weekends, Lina reluctantly agrees. While the home has been special to her family for generations, their neighbors are all signing up to host renters, and frankly, she and Cain could use the extra money. What could go wrong? And at first, Lina is amazed at how quickly guests line up to spend a weekend—and at how much they're willing to pay. 

But both Lina and Cain have been keeping secrets, secrets that won't be kept out by a new alarm system or a locked cupboard. When strange things begin happening on their property, and a visit takes a deadly turn, Lina becomes convinced that someone out there knows something they shouldn't—and that when they come for her, there will be nowhere left to hide.
About the Author
---
J.P. Pomare has always been drawn to the dark. He grew up on a horse-racing farm in small town New Zealand with two brothers, a sister, two cats, and two border collies. He lives with his wife in Australia, where he works in marketing, writes fiction, and hosts a literary podcast (guests have included Joyce Carol Oates, Jonathan Safran Foer and E. Lockhart). His debut novel, Call Me Evie, was published in 2019.
Praise For…
---
"
The Last Guests
is a twisty thriller with an ending I didn't see coming. A cautionary tale for our times."—
Megan Goldin, author of The Escape Room
"Reading JP Pomare is like watching a magic trick. While you focus on his hands, you fail to see what's really happening right in front of your eyes, or behind you, or outside your window."
—
Michael Robotham
,
author of Good Girl, Bad Girl
"Meticulously-plotted and relentlessly tense,
The Last Guests
is JP Pomare at the top of his psych-thriller game. On one hand, it's an innovative, exhilarating and deeply unsettling story about technology and the underbelly of cyber-crime . . . on the other, it's a sharp and thoughtful exploration of marriage, intimacy, trust, and the things we do for love. The characters and settings get right under your skin and stay there. Couldn't put it down, can't stop thinking about it. Bump it to the top of your must-read list immediately."—
Anna Downes, author of The Safe Place
"A smart, innovative thriller,
The Last Guests
will have you moving off-grid and throwing your cell phone in the nearest lake. This nerve-wracking, fast-paced tale takes all our fears about surveillance technology and twists them into one nightmarish Gordian knot. Carefully constructed, chilling and compelling, Pomare's latest creation will keep you guessing right up to the last page."—
Rose Carlyle, author of The Girl in the Mirror"The Last Guests
is a cunning, complex, contemporary thrill-ride."—
Christian White, author of The Nowhere Child
Praise for In the Clearing and J. P. Pomare
—
--
"Pomare captivates in this haunting novel,
In The Clearing
. I was utterly gripped with the stories of Amy and Freya from start to finish, and fascinated by the unexpected way the two came together.Thrilling, atmospheric and with twists abounding, this book held me in its spell long after the final page. A sure-fire bestseller."—
Sally Hepworth
,
bestselling author of The Mother-in-Law
"Spine-tingling . . . Pomare is able to pull off red herrings galore and crafty, satisfying twists. A heart-pounding novel made heart-rending by its reflection of real-life events."—
Kirkus Reviews
"Bombshell-laden  . . . Pomare is a writer to watch."—
Publishers Weekly