Chasm City (Paperback)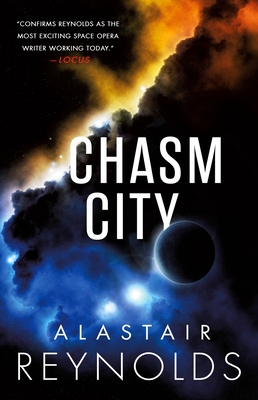 $18.99
Email or call for price.
Description
---
Return to the dazzling world of Revelation Space with this British Science Fiction Award-winning space opera about a young man hell-bent on revenge on the surface of a twisted, disease-corrupted planet.
The once-utopian Chasm City -- a domed human settlement on an otherwise inhospitable planet -- has been overrun by a virus known as the Melding Plague, capable of infecting any body, organic or computerized. Now, with the entire city corrupted -- from the people to the very buildings they inhabit -- only the most wretched sort of existence remains. For security operative Tanner Mirabel, it is the landscape of nightmares through which he searches for a lowlife postmortal killer. But the stakes are raised when his search brings him face to face with a centuries-old atrocity that history would rather forget.
One of Locus and Science Fiction Chronicle's "Best SF Novels of the Year"
About the Author
---
Alastair Reynolds was born in Barry, South Wales, in 1966. He studied at Newcastle and St. Andrews Universities and has a Ph.D. in astronomy. he stopped working as an astrophysicist for the European Space Agency to become a full-time writer. Revelation Space and Pushing Ice were shortlisted for the Arthur C. Clarke Award; Revelation Space, Absolution Gap, Diamond Dogs, and Century Rain were shortlisted for the British Science Fiction Award, and Chasm City won the British Science Fiction Award.
Praise For…
---
"Deep, complex and always more than [it] seems. Reynolds succeeds in the hardest task of good science fiction, creating a new world full of wonder."—The Denver Post

"A tightly written story that spirals inevitably inwards toward its powerful conclusion. [Chasm City] confirms Reynolds as the most exciting space opera writer working today."—Locus

"A worth follow-up to Revelation Space. Reynolds transmutes space opera into a nourish, baroque, picaresque mystery tale. Inventiveness and tone are Reynolds' strong points...the novel's details are consistently startling but convincing in context. Reynolds remains one of the hottest new SF writers around."—Publishers Weekly

"Successfully combines SF noir with technothriller in a dark vision of the future."—Library Journal

"An impressive book. Another step toward what could become a very significant 21st century hard SF career."—SF Site