Romaine Wasn't Built in a Day: The Delightful History of Food Language (Hardcover)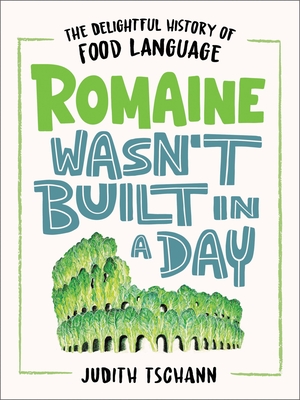 $26.00

In Our Warehouse - Expected arrival in 2-5 days
Description
---
"A truly delightful smorgasbord of history and linguistics that kept us entertained—and made us hungry."
—Apple Books

"Scrumptious...This book was meant to be devoured."
—Roy Peter Clark, author of Murder Your Darlings

Romaine calm and read on for a deliciously detailed digest of food language throughout time from celebrated linguist and historian Judith Tschann that is guaranteed to "make you a hit at dinner parties" (New York Times).

Food and words—we rely on both to sustain our daily lives. We begin each morning hungry for nourishment and conversation, and our happiest moments and fondest memories are often filled with ample servings of both.

Food historian Judith Tschann celebrates this glorious intersection of linguistic and culinary affinities with Romaine Wasn't Build in a Day, an irresistibly charming and deliciously decadent romp through the history of food words. On the hunt for the hidden stories behind hundreds of dishes and ingredients we take for granted, Tschann takes us on an expedition through the centuries and around the world, illuminating the ways in which language is always changing, ever-amusing, and entirely inseparable from culture, history, identity, and such as:
pumpernickel, which literally means "Farting Nicholas"
the surprising linguistic connection between alcohol and eyeliner
and the fascinating travels of the word coffee across centuries and continents, attesting to the enduring allure of a cuppa joe
Full of endless morsels of fascination for word nerds and foodies alike, Romaine Wasn't Built in a Day will beguile history buffs, captivate crossword fiends, satiate Scrabble nerds, and feed our fondness for our two favorite pastimes: eating and talking. 
About the Author
---
Judith Tschann is professor emerita at the University of Redlands, where she taught medieval studies. She was the recipient of the National Endowment for the Humanities Fellowship and the Mortarboard Professor of the Year Award. She lives in Redlands, California, with her husband. 
Praise For…
---
" ...a fascinating history of how we eat and cook."—
Kim Severson
,
The New York Times
"If you've ever paused mid-sip to wonder about the origins of your piping hot coffee or pondered the etymological roots of the word 'pastrami,' former English professor Judith Tschann has some very fun answers. Tschann joyfully explores our daily food rituals, from breakfast spreads to boozy nightcaps, parsing the language we use to talk about what we eat and drink, and why. Along the way, she unearths surprising origin stories and twisty verbal evolutions. The result is a truly delightful smorgasbord of history and linguistics that kept us entertained—and made us hungry."—
Apple Books
"Accomplished medievalist Tschann turns her linguistic skills to sussing out the origins of all manner of food-related words... Tschann's approach is lighthearted, but her aim is serious."
—
Booklist
"I will never look at my breakfast the same way again!"—
Sarah Lohman, author of Eight Flavors
"Scrumptious... This book was meant to be devoured."—
Roy Peter Clark, author of Murder Your Darlings
"Every page feels like a journey of discovery..."—
marthastewart.com
"A literary feast for people curious about the history of food names and word nerds in general...an informative and humorous stroll through words."—
The Marketplace