Missing Justice (Mass Market Paperback)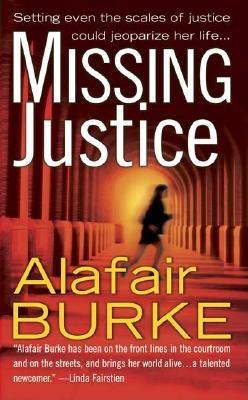 Email or call for price.
Not Available at This Time
Description
---
Newly promoted Deputy District Attorney Samantha Kincaid's first assignment back after a much-needed vacation is a hot one: Judge Clarissa Easterbrook has gone missing from a wealthy Portland neighborhood, and Sam has to make the DA look good until the prodigal judge returns. Yet it soon becomes clear that the woman didn't vanish voluntarily-and it's no surprise when her bludgeoned body turns up at a local construction site.
What is surprising is how quickly a suspect is apprehended while Clarissa's husband, a prominent surgeon, is cleared of suspicion. It all seems a bit cut-and-dried to Sam, especially when she discovers that Clarissa was keeping secrets that the city's elite would prefer to stay hidden.
Now, with each piece of the puzzle she uncovers, Sam is getting closer to the truth-and to the wrong side of some very powerful people. It seems Clarissa's secrets may have caught up to her in the worst of ways. And in her quest to exonerate an innocent man, Sam could be next in line...

About the Author
---
A former deputy district attorney in Portland, Oregon, ALAFAIR BURKE now teaches criminal law at Hofstra Law School. She is a graduate of Stanford Law School and lives in New York City. The daughter of the acclaimed crime writer James Lee Burke, her first novel in the Samantha Kincaid series, "Judgment Calls," is available in paperback from St. Martin's Press.
Praise For…
---
"The second Kincaid mystery by the daughter of James Lee Burke is a very clever whodunit long on red herrings, shadowy motives, and sly humor. The author's background as a former deputy DA in Portland lends gritty ambience to this modern parable of greed and ambition."-Booklist

"[Kincaid is] a slightly seasoned, feisty woman who runs impressive distances and confides her endearing foibles to the reader. Burke does a good job of integrating the political and personal lives of her characters, with the detectives of the Major Crimes Unit being particularly well drawn."
-Publishers Weekly

"Samantha Kincaid is one feisty, smart, articulate soul...she is appearing in her second novel in what's proving to be the beginning of a tough, funny, incisive new mystery-procedural series...clear-eyed, sardonic...Burke's first novel, Judgment Calls, was terrific: tight, savvy, ingenious and suspenseful, and this one proves that it was no one-shot deal."-Providence Journal

"In Missing Justice, Burke really hits her stride. And so does her protagonist...she's smart, she's tough, and she's unafraid-in short, just the way we like our heroines."-New Orleans Times Picayune.

"A taut mystery/thriller with fine characters from an author who debuted with her own voice and a good understanding of how to make a book work...her ADA Kincaid is a solid feature character, bright, flawed, feisty and very much her own woman...it is a fine and fast read."--Statesmen Journal (Salem, OR)

"Burke is definitely a comer and a keeper."-Chicago Tribune

"Are you born with great genes for writing fiction? Or is it something you learn at your Daddy's or Mommy's knee? Whatever it is, Alafair Burke, daughter of James Lee, has it...this is a fine, hidden-secret novel...the fun is in the unraveling of the story, and Burke makes the most of that...Kincaid is a great character."-Toronto Globe and Mail

"Alafair Burke advances the story with ingenuity and a sly, sexy charm. Samantha is autonomous and classy as a woman obsessed with cracking her case. Yet she is never unapproachable. She wins arguments with elan--and the author uses clear explanations of actual law without seeming legalistic."-Desert Morning News (Salt Lake City)

"Alafair Burke made a promising debut with Judgment Calls...Kincaid returns in another absorbing legal thriller."-The Seattle Times

"As a former prosecutor herself, Burke knows the inside of a courtroom, and it shows in the details. The most compelling scenes in the book are set in the halls of justice."-Rocky Mountain News (Denver, CO)

"Perfect summer escapism...a satisfying mix of courtroom drama, criminal investigation and colorful characters."-Tucson Citizen

"Entertaining, complex"-Dallas Morning News

"Extremely talented...Missing Justice is a finely wrought aggregate of the elements of a police procedural, merged with the architecture of a legal thriller and a tightly plotted 'old-fashioned' mystery...in this second outing for them, both Burke and Kincaid come off as very talented and justly claiming their place among the work of writers like Linda Fairstein and Jan Burke...she has the gift every writer longs for: to grab the reader's attention on page one and hold on to it until the last page is read."
--Barbara Lipkien Gershenbaum, Bookreporter.com

"A delectable vehicle for Samantha. Alafair Burke advances the story with ingenuity and a sly, sexy charm."-Dennis Lythgoe, Desert Morning News

"Each of her two books can be read as a stand-alone...buy them both. You won't be disappointed."
--Barbara Franchi, Reviewingtheevidence.com

"Lively...Kincaid is...appealing...Burke does a good job of integrating the political and personal lives of her characters, with the detectives of the Major Crimes Unit being particularly well drawn. Witty and concise dialogue."-Publishers Weekly

"A very clever whodunit long on red herrings, shadowy motives, and sly humor. The author's background as a former deputy DA in Portland lends gritty ambience to this modern parable of greed and ambition."-Booklist

As a former prosecutor herself, Burke knows the inside of a courtroom, and it shows in the details."
-Rocky Mountain News