The Bone Magician (Paperback)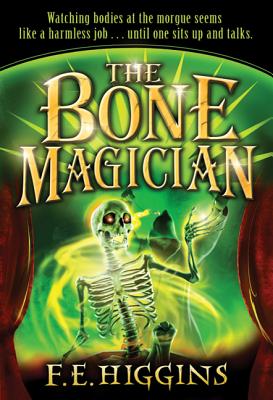 $18.99
In Our Warehouse - Expected arrival in 2-5 days
Fall 2008 Kids' List
---
"Keen characters and insightful writing kept me reading late into the night. Benedict Patagus, master of the art of corpse-raising; Beag Hickory, poet, scholar, and professional potato-thrower; and our hero, Pin Carpue, are alone in the Dark City. Pin seeks his destiny and befriends the apprentice Bone Magician. I loved this cast of misfits and their adventures."
— Scott Fultz, Harry W. Schwartz Bookshop, Mequon, WI
Description
---
Pin Carpue is on his own in the world. His mother is dead and his father is missing after being labeled a suspect in a rash of murders. Pin finds a job working for the local undertaker as a body watcher, making sure people are really dead before they're buried. The body he's supposed to be watching tonight is currently surrounded by three people engaged in a most unusual ceremony. An old man, a bone magician, and his young female assistant are waking a woman so her grieving fiancé can have one last goodbye with her. Pin can't believe it will work, but then the dead woman sits up and speaks.
Pin is determined to discover how the magic works. He cannot believe they are raising the dead. He cannot believe his father is a murderer. Then Pin himself nearly becomes the killer's next victim.
As this mysterious tale unfolds with delicious creepiness, Pin will learn more about the bone magician, the girl Juno, and a hideous creature called the Gluttonous Beast that is kept in a local tavern where people pay for a glimpse of it.
About the Author
---
F.E. Higgins is the author of The Black Book of Secrets, The Bone Magician and The Eyeball Collector. As a child, she once saw a ghostly apparition, and ever since then, she has been fascinated by the macabre. She travels the world, collecting strange artifacts and stranger stories. Born in London, F.E. Higgins now lives in a haunted house that dates back to the fifteenth century, in a small village in rural Kent.
Praise For…
---
"Higgins is a mastermind at creating a creepy world where children still maintain some sense of hope." —VOYA

"The cast of unusual characters and their interrelated stories carry readers along swiftly to an ending that begs for a sequel. Budding fans of Poe or Dickens will be entranced by this atmospheric novel." —School Library Journal

"This 'paraquel'--meaning it takes place in the same world, but follows a different thread--to Higgins' excellent Black Book of Secrets (2007) drips with the same lightly fantastical, heavily Dickensian atmosphere…there is still no end of picaresque charms, creepy turns, and beguiling cast members..." —Booklist

"In this standalone companion novel to The Black Book of Secrets, British author Higgins deftly balances the exceedingly harsh circumstances with wry humor, sly commentary on class issues, and a protagonist who has enough wisdom to recognize the fact that his optimism is perhaps misguided but who manages to retain it anyway." —BCCB

"Set in Urbs Umida, where 'merely to be born was considered the first step towards dying', The Bone Magician . . . is a deliciously dark Gothic thriller-cum-Holmesian-whodunit, the writing so atmospheric that the fumes from the noxious River Foedus, where the murder victims end up, seem to seep off the page and swirl round the reader." —The Telegraph, UK

"Young readers with a taste for the macabre will find it deliciously scary." —The Guardian, UK

"Loosely linked by references and cameos to The Black Book of Secrets (2007), this 'paraquel' spins its wheels through the muck-encrusted streets of Urbs Umida, dropping both corpses and more Dickensian-style characters into the mix. Hired by an undertaker for eerie nighttime vigils, young Pin is amazed to see a cadaver supposedly reanimated by magician Benedict Pantagus and his herbalist assistant, Juno. When heavily contrived circumstances throw Pin and Juno together, Pin becomes as determined to discover her secrets as he is to clear the name of his vanished father, who is accused of murder." —Kirkus