Oath of Office: A Novel (Dr. Lou Welcome #1) (Paperback)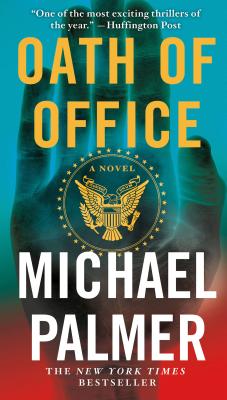 Email or call for price.
Not Available at This Time
Other Books in Series
This is book number 1 in the Dr. Lou Welcome series.
Description
---
Oath of Office
Michael Palmer
When Dr. John Meacham goes on a shooting spree the office, his business partner, staff, and two patients are killed in the bloodbath. Then Meacham turns the gun on himself.
The blame falls on Dr. Lou Welcome. Welcome worked with Meacham years before as a counselor after John's medical license had been revoked for drug addiction. Lou knew that John was an excellent doctor and deserved to be practicing medicine and fought hard for his license to be restored. After hearing the news of the violent outburst, Lou is in shock like everyone else, but mostly he's incredulous. And when he begins to look into it further, the terrifying evidence he finds takes him down a path to an unspeakable conspiracy that seems to lead directly to the White House and those in the highest positions of power.
About the Author
---
Michael Palmer (1942-2013) wrote internationally bestselling novels of medical suspense, including The First Patient, The Second Opinion, The Last Surgeon, A Heartbeat Away, Oath of Office and Political Suicide. His book Extreme Measures was adapted into a movie starring Hugh Grant and Gene Hackman. His books have been translated into thirty-five languages. Palmer earned his bachelor's degree at Wesleyan University, and he attended medical school at Case Western Reserve University. He trained in internal medicine at Boston City and Massachusetts General Hospitals. He spent twenty years as a full-time practitioner of internal and emergency medicine. In addition to his writing, Palmer was an associate director of the Massachusetts Medical Society Physician Health Services, devoted to helping physicians troubled by mental illness, physical illness, behavioral issues, and chemical dependency. He lived in eastern Massachusetts.
Praise For…
---
"This is Palmer at his most terrifying, most plausible and, worst of all, most realistic." —RT Book Reviews (4.5 stars)
"Suspenseful…Palmer's easy mix of science and individual courage should please his many fans." —Publishers Weekly
"Compelling." —Kirkus Reviews
"Oath of Office captures the modern pulse…An engaging novel that touches on some of the fears readers may have about big business, politics, and the food supply. Difficult to put down." —Technorati
"A darn good read." —Examiner.com
"The twists fly in A Heartbeat Away and the results create a terrifying scenario...Palmer has a mastery of the medical science involved in such an elaborate conspiracy, plus the intricacies of presidential succession." —Associated Press on A Heartbeat Away
"When it comes to inventive plots for medical thrillers nobody does it better than Michael Palmer… This premise is explosive and compelling and grabs the readers from the very first page." —The Huffington Post on A Heartbeat Away
"Fans of Michael Palmer will love the Boston-based doctor/crime writer's latest thriller...Prepare to burn some serious midnight oil." —The Boston Herald on The Last Surgeon
"The novel is not merely a thriller but also an exploration of its central character's unique gifts and her determination to communicate with hercomatose father despite overwhelming odds. Another winner from a consistently fine writer." —Booklist on The Second Opinion
"The First Patient is an exciting thriller that is full of surprises and captures the intense atmosphere of the White House, how the medical system works, and how the 25th Amendment could be brought into play. I thoroughly enjoyed it." —Bill Clinton on The First Patient
"This latest should please Palmer's fans and all those who enjoy their suspense mixed with medical characters and settings." —Library Journal on The Last Surgeon
"A heart-pounding medical thriller." —The Boston Globe on The Second Opinion