Happy Valentine's Day, Dolores (Paperback)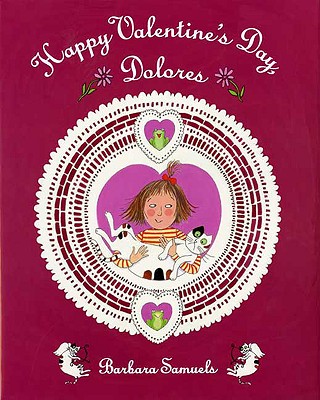 $6.99
Email or call for price.
Description
---
Time and time again Dolores has been told to keep out of her big sister Faye's room. But when Dolores sees Faye hiding a mysterious heart-shaped box, she can't resist sneaking in and taking a peek. Join the irrepressible Dolores and her long-suffering cat, Duncan, in this hilarious escapade as Dolores pushes the limits of sisterly love and learns that, in matters of the heart, it's important to give, as well as take.
About the Author
---
Barbara Samuels's previous books about Dolores include Dolores on Her Toes, a Booklist Editors' Choice, and Dolores Meets Her Match. Her newest book, The Trucker, will be available in Fall 2009 from FSG. She lives in New York City.
Praise For…
---
"With so much to laugh at, children will enjoy repeat reads—and so will the grownups."—Booklist, Starred Review
"Readers will ask for repeated readings in order to further examine the details on the pages. Add this one to your holiday repertoire."—School Library Journal, Starred Review "As is the case with the other Dolores books, this is one full of visual activity and funny asides."—Kirkus Reviews "The pacing is as lively as the cartoonlike illustrations. Siblings on each end of the spectrum—older and younger—will identify with these girls and their funny but believable antics."—The Columbus Dispatch "Dolores is funny, mischievous and endearing. . . . will have children alternately laughing and groaning in empathy."—The News Tribune (Tacoma, WA)