Trust No One: A Thriller (Mass Market)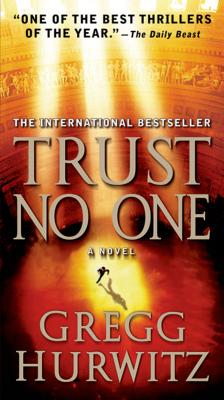 Email or call for price.
Not Available at This Time
Description
---
Over the past two decades, Nick Horrigan has built a quiet, safe life for himself, living as much under the radar as possible. But all of that shatters when, in the middle of the night, a SWAT team bursts into his apartment and drags him out to a waiting helicopter. A terrorist has seized control of a nuclear reactor, threatening to blow it up. And the only person he'll talk to is Nick, promising to tell Nick the truth behind the events that shattered his life twenty years ago.
At seventeen years old, Nick made a deadly mistake—one that cost his stepfather his life, endangered his mother, and sent him into hiding for years. Now what Nick discovers in that nuclear plant leaves him with only two choices: to start running again—or to fight and finally uncover the secrets that have held him hostage all these years.
As Nick peels back layer after layer of lies and deception, buffeted between the buried horrors of the past and the deadly intrigues of the present, he finds his own life—and the lives of nearly everyone he loves—at risk. And the only thing guiding him through this deadly labyrinth are his stepfather's dying words: TRUST NO ONE.
About the Author
---
GREGG HURWITZ is the New York Times bestselling author of more than a dozen novels, including the #1 international bestseller Orphan X, the first in a series of thrillers featuring Evan Smoak. He has also written young adult novels: The Rains and its sequel, The Last Chance. Hurwitz's books have been shortlisted for numerous literary awards, graced top ten lists, and have been translated into twenty-eight languages.
Hurwitz is also a New York Times bestselling comic book writer, having penned stories for Marvel (Wolverine, The Punisher) and DC (Batman). Additionally, he has written screenplays for many major studios and written, developed, and produced television for various networks.
Hurwitz resides in Los Angeles with two Rhodesian ridgebacks.
Praise For…
---
"A performance worthy of applause...Hurwitz's carefully interwoven plot lines and taut writing, as well as his pulsing descriptions of Los Angeles, make for a deeply satisfying read..." —Kirkus (Starred Review) on The Crime Writer
"The plot has more twists and turns than Mulholland Drive...Hurwitz's insights about L.A. life sound knowing and are often ruefully funny...Crime fans looking for something different will love this one." —Booklist on The Crime Writer
"Hurwitz has the literary background to infuse his stories with an intelligence that is a welcome complement to the pulse-pounding action..." —Chicago Sun Times on Last Shot
"To open a new Gregg Hurwitz is to brace yourself for a bravura style and an out of the ordinary ride to an unexpected destination... TRUST NO ONE begins with a Hurwitz burst... It's at once completely contemporary and a classic quest." —Barbara Peters, Poisoned Pen Bookstore