Robert Ludlum's The Altman Code: A Covert-One Novel (Mass Market)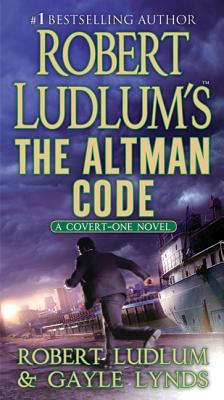 $9.99
Email or call for price.
Other Books in Series
This is book number 4 in the Covert-One series.
Description
---
Covert-One agent Jon Smith is sent to rendezvous in Taiwan with another agent who has acquired the ship's true manifest. But before Smith can get the document, he is ambushed, the second agent is murdered, and the evidence is destroyed. Smith escapes with only his life and a verbal message: The President's biological father is still alive, held prisoner by the Chinese for fifty years. As the mysterious ship draws closer to its end port, Smith is losing time in uncovering the truth about the vessel and its cargo—a truth that probes the secrets of the Chinese ruling party, a faction in Washington working to undermine the elected government, and an international cabal thrusting the world to the brink of war...
About the Author
---
Robert Ludlum (1927-2001) was the author of 25 thriller novels, including The Bourne Identity, The Bourne Supremacy and The Bourne Ultimatum--the books on which the international hit movies were based--and The Sigma Protocol. He was also the creator of the Covert-One series. Born in New York City, Ludlum received a B.A. from Wesleyan University, and before becoming an author, he was a United States Marine, a theater actor and producer.

Gayle Lynds is the bestselling, award-winning author of several international espionage thrillers, including Masquerade, The Coil, and The Last Spymaster. A member of the Association for Intelligence Officers, she is cofounder (with David Morrell) of ITW (International Thriller Writers). She lives in Santa Barbara.
Praise For…
---
"Ludlum is light years beyond his literary competition in piling plot twist upon plot twist, until the mesmerized reader is held captive...[He] dominates the field in strong, tightly plotted, adventure-drenched thrillers. Ludlum pulls out all the stops and dazzles his readers." —Chicago Tribune

"Ludlum stuffs more surprises into his novels than any other six pack of thriller writers combined." —The New York Times

"Reading a Ludlum novel is like watching a James Bond film." —Entertainment Weekly

"Welcome to Robert Ludlum's world...fast pacing, tight plotting, international intrigue." —The Plain Dealer

"Robert Ludlum is the master of gripping, fast-moving intrigue. He is unsurpassed at weaving a tapestry of stunningly diverse figures, then assembling them in a sequence so gripping that the reader's attention never wavers." —The Daily Oklahoman

"Don't ever begin a Ludlum novel if you have to go to work the next day." —Chicago Sun-Times

"If a Pulitzer Prize were awarded for escapist fiction, Robert Ludlum undoubtedly would have won it. Ten times over." —Mobile Register

"An exciting medical-military thriller that moves at a rapid pace to its climax...an exciting new series." —Midwest Book Review

"A pop hit...that should bounce right up the bestseller lists." —Kirkus Reviews

"Gripping...robust writing and a breakneck pace." —Boston Herald