Deep Black: Death Wave (Mass Market)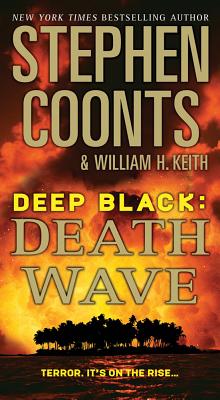 Email or call for price.
Not Available at This Time
Other Books in Series
This is book number 9 in the Deep Black series.
Description
---
Stephen Coonts and William H. Keith's Deep Black: Death Wave continues the bestselling technothriller series.

In Central Asia, a dangerous shipment has vanished. Twelve nuclear warheads—with a combined power greater than the Hiroshima bomb—have been stolen by a deadly new alliance of international terrorists. Their plan: Use man-made weapons to trigger a devastating natural catastrophe—the largest tsunami the world has ever seen…

Enter Deep Black: a secret unit of the NSA led by former Marine sniper Charlie Dean. With his hand-picked team of special ops, Dean follows the terrorists' trail to the Canary Islands. But time is running out. In hours, the warheads will be detonated and a thousand-foot wave will rise. In it's path of destruction lies every city on America's eastern coast.
About the Author
---
STEPHEN COONTS is the New York Times bestselling author of more than thirty novels that have been translated and published around the world. His books include The Disciple, The Assassin, and the Deep Black and Saucers series, among many other bestsellers. A former naval aviator and Vietnam combat veteran, he is a graduate of West Virginia University and the University of Colorado School of Law. He lives in Colorado.

William H. Keith has written nearly eighty books over the past twenty-five years, including the Warstrider series. His novels, published under the pseudonyms Ian Douglas and H. Jay Riker, are geopolitical thrillers with an emphasis on the Marines and submarine warfare. A veteran of the Navy, he lives in western Pennsylvania.
Praise For…
---
"Coonts and Keith take international espionage and terrorism to a whole, new level.... The story has all the elements of a best-selling thriller." —Portland Book Review

"Coonts carefully builds his plot using a wide cast of characters, from insider Iranian spies to cutting-edge aircraft pilots and government officials both high and low. Hardly a page passes without nerve-stretching tension or flat-out action. One can only hope the U.S. president, the head of the CIA, and the Israeli prime minister will have this book on their nightstands for easy reference in case fiction turns to reality, an all-too-real possibility as evidenced by recent headlines." —Publishers Weekly (starred review) on THE DISCIPLE

"The action moves swiftly to its Hollywood ending." —Publishers Weekly on THE ASSASSIN

"In bestseller Coonts's assured new international thriller, Tommy Carmellini, the sardonic, laid-back CIA agent who became a star in 2004's Liars and Thieves gets a shot at the big time." —Publishers Weekly on THE TRAITOR

"Vintage Coonts...plenty of action and intrigue, with the added benefit of a new lead character." —Dallas Morning News on THE TRAITOR

"Excellent." —Publishers Weekly (starred review) on THE TRAITOR

"Frighteningly realistic." —Maxim on LIBERTY

"Gripping…Coonts's naval background and his legal education bring considerable authority to the story, and the narrative is loaded with detailed information about terrorist networks, modern weaponry, and international intrigue…the action is slam-bang." —Publishers Weekly on LIBERTY

"The master of the techno-thriller spins a bone-chilling worst-case scenario involving international spies, military heroics, conniving politicians, devious agencies, a hijacked nuclear sub, lethal computer hackers, currency speculators, maniac moguls, and greedy mercenaries that rival Clancy for fiction-as-realism and Cussler for spirited action… [Coonts] never lets up with heart-racing jet/missile combat, suspenseful submarine maneuvers and doomsday scenarios that feel only too real, providing real food for thought in his dramatization of the missile-shield debate." —Publishers Weekly (starred review) on AMERICA

"Fans of Coonts and his hero Grafton will love it. Great fun." —Library Journal on AMERICA

"Coonts's action and the techno-talk are as gripping as ever." —Kirkus Reviews on AMERICA

"Thrilling roller-coaster action. Give a hearty welcome back to Adm. Jake Grafton." —The Philadelphia Inquirer on AMERICA

"Move over Clancy, readers know they can count on Coonts." —Midwest Book Review on HONG KONG

"The author gives us superior suspense with a great cast of made-up characters…But the best thing about this book is Coonts's scenario for turning China into a democracy." —Liz Smith, The New York Post on HONG KONG

"A high-octane blend of techno-wizardry [and] ultraviolence…[Coonts] skillfully captures the postmodern flavor of Hong Kong, where a cell phone is as apt as an AK-47 to be a revolutionary weapon." —USA Today on HONG KONG

"Entertaining…intriguing." —Booklist on HONG KONG

"Will be enjoyed by Coonts's many fans…Coonts has perfected the art of the high-tech adventure story." —Library Journal on HONG KONG

"Coonts does a remarkable job of capturing the mood of clashing cultures in Hong Kong." —Publishers Weekly on HONG KONG

"Filled with action, intrigue, and humanity." —San Jose Mercury News on HONG KONG

"Enough Tomahawk missiles, stealth bombers, and staccato action to satisfy [Coonts's] most demanding fans." —USA Today on CUBA

"[A] gripping and intelligent thriller." —Publishers Weekly (starred review) on CUBA

"Perhaps the best of Stephen Coonts's six novels about modern warfare." —Austin American-Statesman on CUBA

"Coonts delivers some of his best gung-ho suspense writing yet." —Kirkus Reviews on CUBA

"Dramatic, diverting action…Coonts delivers." —Booklist on CUBA

"Fortunes of War is crammed with a action, suspense, and characters with more than the usual one dimension found in these books." —USA Today on FORTUNES OF WAR

"A stirring examination of courage, compassion, and profound nobility of military professionals under fire. Coonts's best yet." —Kirkus Reviews (starred review) on FORTUNES OF WAR

"Full of action and suspense…a strong addition to the genre." —Publishers Weekly on FORTUNES OF WAR

"Extraordinary! Once you start reading, you won't want to stop!" —Tom Clancy on FLIGHT OF THE INTRUDER

"[Coonts's] gripping, first-person narration of aerial combat is the best I've ever read. Once begun, this book cannot be laid aside." —The Wall Street Journal on FLIGHT OF THE INTRUDER

"Kept me strapped in the cockpit of the author's imagination for a down-and-dirty novel." —St. Louis Post-Dispatch on FLIGHT OF THE INTRUDER

"A comic, feel-good SF adventure...[delivers] optimistic messages about humanity's ability to meet future challenges." —Kirkus Reviews on SAUCER

"Tough to put down." —Publishers Weekly on SAUCER