An Acceptable Time (A Wrinkle in Time Quintet #5) (Paperback)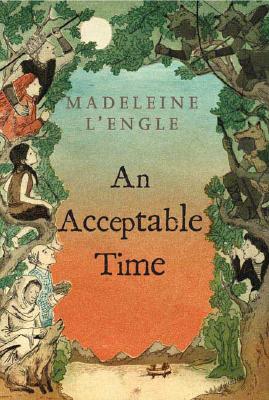 $7.99
Email or call for price.
Other Books in Series
This is book number 5 in the A Wrinkle in Time Quintet series.
Description
---
An Acceptable Time, the final book in Madeleine L'Engle's Time Quintet, the series that began with the Newbery Award winner A Wrinkle in Time. While spending time with her grandparents, Alex and Kate Murry, Polly O'Keefe wanders into a time 3,000 years before her own.

"A rich and heady brew . . . fine fantasy, firmly rooted in reality.'' —Publisher's Weekly

Under their feet, the ground seemed to tremble.

A flash of lightning, quivering ground, and, instead of her grandparents' farm, Polly sees mist and jagged mountains -- and coming toward her, a group of young men carrying spears.

Why has a time gate opened and dropped Polly into a world that existed 3,000 years ago? Will she be able to get back to the present before the time gate closes -- and leaves her to face a group of people who believe in human sacrifice?

Praise for An Acceptable Time:

"When Polly O'Keefe visits her grandparents in Connecticut, she finds herself caught up in the lives of three mysterious strangers [who lived] 3,000 years ago [and] travels back in time to play a crucial role in an ancient confrontation. . . L'Engle has again achieved the award-winning style of A Wrinkle in Time. . . Highly recommended." —VOYA

"A rich and heady brew . . . fine fantasy, firmly rooted in reality.'' —Publisher's Weekly

Books by Madeleine L'Engle

A Wrinkle in Time Quintet
A Wrinkle in Time
A Wind in the Door
A Swiftly Tilting Planet
Many Waters
An Acceptable Time

A Wrinkle in Time: The GraphicNovel by Madeleine L'Engle; adapted & illustrated by HopeLarson: A graphic novel adaptation of Madeleine L'Engle's ground-breakingscience fiction and fantasy classic.

Intergalactic P.S. 3 by Madeleine L'Engle; illustrated by Hope Larson: Astandalone story set in the world of A Wrinkle in Time!

The Austin Family Chronicles
Meet the Austins (Volume 1)
The Moon by Night (Volume 2)
The Young Unicorns (Volume 3)
A Ring of Endless Light (Volume 4) A Newbery Honor book!
Troubling a Star (Volume 5)

The Polly O'Keefe books
The Arm of the Starfish
Dragons in the Waters
A House Like a Lotus

And Both Were Young

Camilla

The Joys of Love
About the Author
---
Madeleine L'Engle (1918-2007) was the Newbery Medal-winning author of more than 60 books, including the much-loved A Wrinkle in Time. Born in 1918, L'Engle grew up in New York City, Switzerland, South Carolina and Massachusetts. Her father was a reporter and her mother had studied to be a pianist, and their house was always full of musicians and theater people. L'Engle graduated cum laude from Smith College, then returned to New York to work in the theater. While touring with a play, she wrote her first book, The Small Rain, originally published in 1945. She met her future husband, Hugh Franklin, when they both appeared in The Cherry Orchard. Upon becoming Mrs. Franklin, L'Engle gave up the stage in favor of the typewriter. In the years her three children were growing up, she wrote four more novels. Hugh Franklin temporarily retired from the theater, and the family moved to western Connecticut and for ten years ran a general store. Her book Meet the Austins, an American Library Association Notable Children's Book of 1960, was based on this experience. Her science fantasy classic A Wrinkle in Time was awarded the 1963 Newbery Medal. Two companion novels, A Wind in the Door and A Swiftly Tilting Planet (a Newbery Honor book), complete what has come to be known as The Time Trilogy, a series that continues to grow in popularity with a new generation of readers. Her 1980 book A Ring of Endless Light won the Newbery Honor. L'Engle passed away in 2007 in Litchfield, Connecticut.
Praise For…
---
"When Polly O'Keefe visits her grandparents in Connecticut, she finds herself caught up in the lives of three mysterious strangers [who lived] 3,000 years ago [and] travels back in time to play a crucial role in an ancient confrontation...L'Engle has again achieved the award-winning style of A Wrinkle in Time. . .Highly recommended." —VOYA