The Bourne Legacy (Jason Bourne) (Mass Market)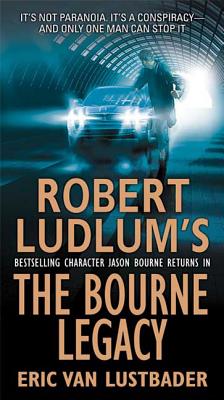 Other Books in Series
This is book number 4 in the Jason Bourne series.
Description
---
Once, Jason Bourne was notorious in the clandestine world of covert-ops as one of the CIA's most expert international killers for hire. Out of the ashes of his violent past he's emerged today as a Georgetown professor, living a quiet life, retired from danger--until he narrowly escapes the bullet of a faceless assassin. And when two of Bourne's closest associates are murdered, Bourne knows that his legacy has followed him--and set him up as the prime suspect for the brutal crimes.

The quicksand of lies and betrayals is deeper than Bourne ever imagined. Hunted by the CIA as a dangerous rogue agent, he has only one option to stay alive--and one last chance to stay one step ahead of an unseen assailant whose vengeance is personal. Pursued across the globe, Bourne's on the run, and on the edge of discovering the truth--that he's become the expendable pawn in an international terrorist plot. One that's taking every living witness with it and plunging Bourne one step closer to the world-shattering consequences of...the Bourne Legacy.

This edition of the book is the deluxe, tall rack mass market paperback.
About the Author
---
ERIC VAN LUSTBADER is the author of many New York Times bestselling thrillers, including The Testament, First Daughter, Last Snow, and Blood Trust. Lustbader was chosen by Robert Ludlum's estate to continue the Jason Bourne series. He and his wife live on the South Fork of Long Island.
Praise For…
---
"It's a hearty serving of meat and potatoes action adventure, just the sort of fare that both Ludlum's and Lustbader's fans relish." —Publishers Weekly

"Lustbader remains a fine choice to fill Ludlum's large shoes, and he has delivered a work worthy of the Bourne legacy." —USA Today