James Herriot's Treasury for Children (Hardcover)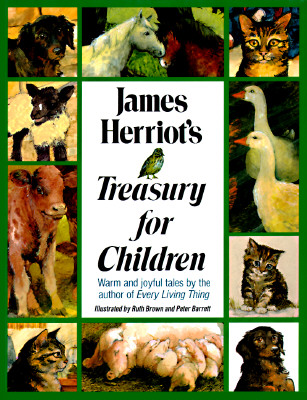 $19.95
Email or call for price.
Description
---
"James Herriot's Treasury for Children "collects all of the beloved veterinarian's delightful tales for young readers. From the springtime frolic of "Oscar, Cat-About-Town "to the yuletide warmth of "The Christmas Day Kitten, "these stories-radiantly illustrated by Peter Barrett and Ruth Brown-are perennial favorites, and this new complete edition will make a wonderful gift for all readers, great and small.
About the Author
---
James Herriot (1916-1995) was the bestselling author of memoirs including "All Creatures Great and Small," "All Things Bright and Beautiful," "All Things Wise and Wonderful," "The Lord God Made Them All," and "Every Living Thing." At age 23, Herriot qualified for veterinary practice with the Glasgow Veterinary College, and moved to the town of Thirsk in Yorkshire to work in a rural practice. He would live in, work in, and write about the region for the rest of his life. Though he dreamed for years of writing a book, his veterinary work and his family kept him busy, and he did not start writing until the age of 50. In 1979, he was awarded the title Order of the British Empire (OBE). His veterinary practice in Yorkshire, England, is now tended by his son, Jim Wight.
Praise For…
---
"Just the sort of thing you hope will imprint on the memory screen of a young child: fresh, clear, pure, and good." --Commonwealth