Danza de dragones / A Dance with Dragons (Canción de hielo y fuego #5) (Paperback)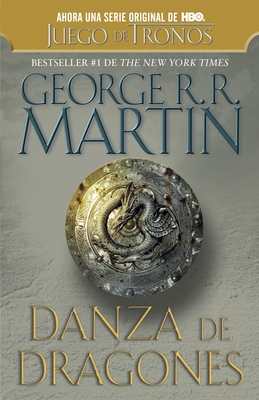 $25.00
Email or call for price.
Other Books in Series
This is book number 5 in the Canción de hielo y fuego series.
Description
---
CANCIÓN DE HIELO Y FUEGO V

Después de una colosal batalla, el futuro de los Siete Reinos pende de un hilo, acuciado por nuevas amenazas que emergen de todos los rincones y en todas direcciones. En el este, Daenerys Targaryen, el último eslabón de la Casa Targaryen, gobierna con sus tres dragones como la reina de una ciudad construida sobre polvo y muerte. Pero Daenerys tiene miles de enemigos, y muchos se han propuesto dar con ella. A medida que ellos la buscan, un joven emprende su propio camino hacia la reina, con un objetivo diametralmente distinto…

Tyrion Lannister también se dirige hacia Daenerys mientras escapa de Poniente, donde le han puesto precio a su cabeza. Sus nuevos aliados en esta huida, no obstante, no son los malhechores que aparentan ser, y entre ellos se encuentra aquel que podría impedir que Daenerys se haga del control de Poniente para siempre.
  
Mientras tanto, al norte se halla el colosal Muro de Hielo. Allí, Jon Nieve enfrentará el más grande de los retos: sus más acérrimos enemigos no sólo forman parte de la guardia que dirige, sino que se extienden más allá de la tenebrosa tierra de las criaturas de hielo.

De todos los rincones, enconados conflictos cobran nuevos bríos, traiciones íntimas se perpetran y un gran elenco de proscritos y sacerdotes, soldados y criaturas camaleónicas, nobles y esclavos, enfrentarán obstáculos en apariencia insuperables. Algunos fracasarán, otros crecerán en la fuerza de la oscuridad. Pero en tiempos de agitación in crescendo, los hilos del destino y la política arrastrarán a los personajes y al lector, inevitablemente, a la más espectacular de las danzas.

ENGLISH DESCRIPTION

THE BOOK BEHIND THE FIFTH SEASON OF THE ACCLAIMED HBO SERIES GAME OF THRONES
#1 NEW YORK TIMES BESTSELLER A SONG OF ICE AND FIRE SERIES: BOOK 5

Dubbed "the American Tolkien" by Time magazine, George R. R. Martin has earned international acclaim for his monumental cycle of epic fantasy. Now the #1 New York Times bestselling author delivers the fifth book in his landmark series—as both familiar faces and surprising new forces vie for a foothold in a fragmented empire. 

A DANCE WITH DRAGONS
In the aftermath of a colossal battle, the future of the Seven Kingdoms hangs in the balance—beset by newly emerging threats from every direction. In the east, Daenerys Targaryen, the last scion of House Targaryen, rules with her three dragons as queen of a city built on dust and death. But Daenerys has thousands of enemies, and many have set out to find her. As they gather, one young man embarks upon his own quest for the queen, with an entirely different goal in mind.
Fleeing from Westeros with a price on his head, Tyrion Lannister, too, is making his way to Daenerys. But his newest allies in this quest are not the rag-tag band they seem, and at their heart lies one who could undo Daenerys's claim to Westeros forever.
Meanwhile, to the north lies the mammoth Wall of ice and stone—a structure only as strong as those guarding it. There, Jon Snow, 998th Lord Commander of the Night's Watch, will face his greatest challenge. For he has powerful foes not only within the Watch but also beyond, in the land of the creatures of ice.
From all corners, bitter conflicts reignite, intimate betrayals are perpetrated, and a grand cast of outlaws and priests, soldiers and skinchangers, nobles and slaves, will face seemingly insurmountable obstacles. Some will fail, others will grow in the strength of darkness. But in a time of rising restlessness, the tides of destiny and politics will lead inevitably to the greatest dance of all.
Praise for A Dance with Dragons
"Filled with vividly rendered set pieces, unexpected turnings, assorted cliffhangers and moments of appalling cruelty, A Dance with Dragons is epic fantasy as it should be written: passionate, compelling, convincingly detailed and thoroughly imagined."—The Washington Post
"Long live George Martin . . . a literary dervish, enthralled by complicated characters and vivid language, and bursting with the wild vision of the very best tale tellers."—The New York Times
About the Author
---
George R. R. Martin nació en 1948 en Bayonne, Nueva Jersey. Se licenció en periodismo en 1970 y publicó su primera novela, Muerte de la luz, en 1977. Tras una trayectoria deslumbrante como escritor de ciencia ficción, terror y fantasía, se convirtió en guionista de series televisivas como Dimensión desconocida y La bella y la bestia, además de realizar tareas de producción para diversos proyectos cinematográficos. En la actualidad es uno de los autores de mayor éxito en el mundo con la saga Canción de hielo y fuego, cuyas sucesivas entregas le han otorgado un puesto de honor en la literatura fantástica.
Praise For…
---
"Danza de dragones es una fantasía épica en todo el sentido del término: es apasionada, irresistible, muy detallada e imaginada a profundidad; está colmada de batallas reproducidas vívidamente, giros inesperados, un suspenso impecable y atroces momentos de crueldad. A pesar de contar con una serie de elementos abiertamente fantásticos —dragones, videntes, hechiceros y seres que se metamorfosean—, la obra de Martin da la sensación de estar fundamentada en la realidad brutal de la Edad Media. El resultado es un éxito con mente y corazón, un libro sin parangón en la historia de la literatura fantástica". The Washington Post
 
"Martin escribe fantasía para adultos con una mundanalidad cruda y franca… Es un derviche literario, cautivado por personajes complicados y un lenguaje vívido que enaltece la visión salvaje de los mejores relatores… Danza de dragones, sin duda, está a la altura de los estándares que sentaron sus cuatro hermanos mayores. Y, al igual que las mejores sagas, no le da un respiro emocional al lector, pues concluye con múltiples interrogantes incisivas, a medida que las pesadas ruedas de la fortuna se ponen en movimiento". The New York Times
 
"En 2005 escribí una reseña en la que llamaba a Martin 'el Tolkien americano'. En ese momento creía que era el maestro de la fantasía épica de nuestros tiempos: ahora, seis años después, al leer Danza de dragones, confirmé con gran placer que tenía razón: la destreza literaria de Martin excede la de cualquier novelista actual... Leer una novela es un poco parecido a comandar un ejército: siempre se está explorando y reconociendo el terreno para intentar adivinar hacia dónde irá el autor, así como descifrar qué es finta y qué indica la verdadera dirección hacia donde se dirige la acción. No sé cuántas veces antes de leer a Martin me he sentido superado en términos de estrategia de una forma tan contundente: en cada turno, Martin sube las apuestas, incluso cuando los otros escritores han abandonado la mesa. Y cuando uno cree que se retirará… lo apuesta todo". Lev Grossman, Time