The Curie Society (The Curie Society Series #1) (Paperback)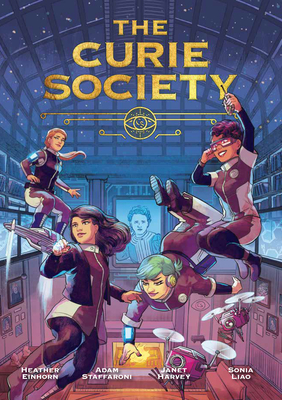 Other Books in Series
This is book number 1 in the The Curie Society Series series.
Description
---
An action-packed graphic novel for the science lover—"with suspenseful espionage, nerdy humor, and a group of dauntless, eager trailblazers" following in the footsteps of Marie Curie (Shelf Awareness).

The brilliant, diverse members of a covert society dedicated to women in STEM undertake high-stakes missions to save the world.

An action-adventure original graphic novel, The Curie Society follows a team of young women recruited by an elite secret society—originally founded by Marie Curie—with the mission of supporting the most brilliant female scientists in the world.
 
The heroines of the Curie Society use their smarts, gumption, and cutting-edge technology to protect the world from rogue scientists with nefarious plans. Readers can follow recruits Simone, Taj, and Maya as they decipher secret codes, clone extinct animals, develop autonomous robots, and go on high-stakes missions.

"A fun comic starring heroines who find themselves solving one scientific puzzle after the next!" ―Andy Weir, New York Times–bestselling author of The Martian
About the Author
---
Creators Heather Einhorn and Adam Staffaroni also created the hit teen scripted podcast Lethal Lit: A Tig Torres Mystery (a New York Times Great Podcast of 2018). Comic book writer Janet Harvey's credits include the graphic novel Angel City: Town without Pity. Illustrator Sonia Liao's past credits include the Ember in the Ashes graphic novel A Thief Among the Trees.
Praise For…
---
The 2022 Hal Clement Notable Young Adult Books List
Selection of the 2022 Rise Book List from the Feminist Task Force of the American Library Association

"Readers eager for greater representation of women in the sciences will cheer..."
— Publishers Weekly

"The characterization is deft and snappy, and the visual storytelling efficient and dynamic with an expressive color palette and varied panel layout... A STEM treat for the curious."
— Kirkus Reviews

"Budding scientists and fans of exciting graphic novels are in for a rollicking journey that stresses that women in STEM truly are better together."
— School Library Journal

"With suspenseful espionage, nerdy humor and a group of dauntless, eager trailblazers fostering genuine friendships, The Curie Society is sure to fascinate curious minds."
—Shelf Awareness

"Janet Harvey's script packs in high-kicking derring-do and affecting character moments, and as a celebration of diversity and female empowerment her story cannot be faulted."
—Financial Times

"Three brilliant young women join a sisterhood of science and find themselves drawn into an adventure that will test their courage, knowledge, and friendship. A refreshing and empowering read!"
—Pia Guerra, political cartoonist and artist of Y: The Last Man

"Featuring strong teenage characters grappling with ethics in science, society, and history, this graphic novel will make a great gift for burgeoning, curious young scientists everywhere."
—Janna Levin, author of Black Hole Blues

"A delightful mix of engaging adventure and fascinating science. An excellent way of learning lots of science ideas and sharing in the lives of characters who have a passion for it."
—Clifford V. Johnson, physicist and author of The Dialogues: Conversations about the Nature of the Universe

"A fun comic starring heroines who find themselves solving one scientific puzzle after the next!"
―Andy Weir, author of The Martian and Artemis

"Full of action . . . a great addition to have for any young girl's library."
―ComicBuzz

"The three diverse heroines of the secret Curie Society using brains, resourcefulness and cutting-edge technology to outwit nefarious rogue scientists who threaten the world. Right on!"
―Nature Magazine

"A delightful graphic novel that will certainly help younger readers learn lots of science and technological innovations and ideas, stimulating their curious minds."
―Engineering & Technology
 
"Highly entertaining and packed with interesting science."
―Physics World