Stonewall Hinkleman and the Battle of Bull Run (Paperback)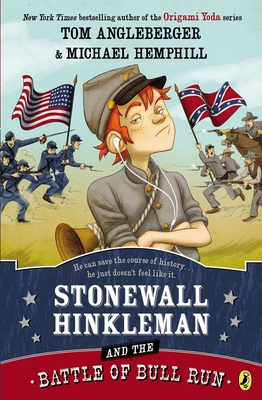 $7.99
Email or call for price.
Description
---
An exciting historical adventure, co-written by the New York Times bestselling author of the Origami Yoda series!

 Stonewall Hinkleman (yup, that's his real name) hates participating in historical reenactments with his Civil War-obsessed parents. Who wants to pretend to fight in some old war anyway? But one day, Stonewall finds himself transported back in time to the actual Battle of Bull Run—and he's not alone! Mr. Dupree, an ardent Confederate from Stonewall's time, has also traveled back in order to change the outcome of the whole Civil War. Stonewall needs to use all of his knowledge of the battle to stop Dupree and save the course of American history as we know it.
About the Author
---
 Tom Angleberger (www.origamiyoda.com) and Michael Hemphill (www.stonewallhinkleman.com) met when they were both reporters for the same newspaper. Michael kept trying to use his news story about a Virginia battle flag controversy as the basis for a story for grown-ups, but Tom saw it as the perfect setting for a smart aleck teenager. Stonewall Hinkleman was born.
            Since Tom's father was a Civil War buff (though not a reenactor), it was pretty easy for Tom to imagine what life would be like for a kid who was stuck replaying the Civil War over and over again. So with Michael supplying the actual knowledge and Tom supplying the "are we having fun yet" attitude (and the magic bugle), they set to work. Eventually, Michael picked up on the attitude, but Tom never learned much about the war. There's been some feuding along the way, but it's a book neither of them could have written alone.
Praise For…
---
Praise for Stonewall Hinkleman!
 
"Stonewall's wry first-person narrative will appeal to readers from the start: if his resentful rant against his parents doesn't draw laughs, his amusing spin on hallowed family history surely will. . . . This engaging novel offers a fresh approach to Civil War fiction."—Booklist
 
"Stonewall is a likable character whose attitude changes for the better in the story. . . . A good choice for historical fiction fans.—School Library Journal
 
"Combining imaginary and real people and places is successful and gives readers detailed insight."—Library Media Connection