Brave Men (Paperback)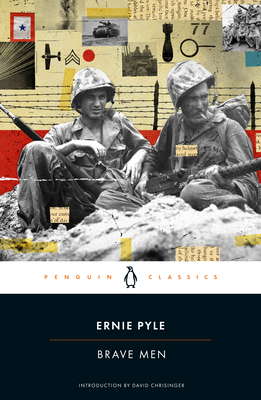 $24.00

In Our Warehouse - Expected arrival in 2-5 days
Description
---
The classic, human-scale account of the soldiers who fought in World War II, by Pulitzer Prize winner Ernie Pyle—America's most famous and most loved war correspondent—featuring a new introduction by David Chrisinger, the author of the new Ernie Pyle biography, The Soldier's Truth

A Penguin Classic

When America entered World War II, Ernie Pyle followed the soldiers into the trenches. Long before television and the internet beamed combat footage directly to us, his dispatches from the front lines augmented the coverage of the war's politics, strategies, and macro-level mobilizations to give the American public what he called his "worm's-eye view" of the day-to-day life of the war. He captured, as John Steinbeck described it in Time magazine, the "war of the homesick, weary, funny, violent, common men who wash their socks in their helmets, complain about the food . . . and bring themselves through as dirty a business as the world has ever seen and do it with humor and dignity and courage—and that is Ernie Pyle's war." A number-one bestseller upon its publication in 1944, Brave Men remains unmatched in its clarity, sympathy, and grit as a portrait of America's boys who fought in Europe, and lives on as a testament to the enduring value of embedded journalism in reporting the truth.

For more than seventy-five years, Penguin has been the leading publisher of classic literature in the English-speaking world. With more than 2,000 titles, Penguin Classics represents a global bookshelf of the best works throughout history and across genres and disciplines. Readers trust the series to provide authoritative texts enhanced by introductions and notes by distinguished scholars and contemporary authors, as well as up-to-date translations by award-winning translators.
About the Author
---
Ernie Pyle (1900–1945) was a Pulitzer Prize–winning war correspondent. He worked as managing editor of The Washington Daily News and later became a roving journalist for Scripps-Howard Alliance. After many years following the fighting in Europe, he traveled to the South Pacific, where a sniper's bullet took his life.

David Chrisinger (introduction) is the author of The Soldier's Truth: Ernie Pyle and the Story of World War II and several other books, including Public Policy Writing That Matters, for which he won the National Council of Teachers of English George Orwell Award for Distinguished Contribution to Honesty and Clarity in Public Language. He directs the Harris Writing Workshop at the University of Chicago's Harris School of Public Policy and leads memoir-writing workshops for military veterans and their families through The War Horse, an award-winning nonprofit newsroom named in honor of Ernie Pyle that aims to improve our understanding of the true costs of military service. He lives in Chicago.
Praise For…
---
"As a combat reporter, Pyle surpassed all others working during the Second World War, outwriting his contemporaries, Hemingway included. . . . His concern with the soldiers' morale and commitment to the cause . . . reveals more than any high-level analyses could. . . . Pyle was a cartographer, meticulously mapping the character of the Americans who chose to fight. . . . His style of combat realism, which eschews the macro and strategic for the micro and human, can be seen in today's combat reporting from Ukraine . . . where . . . the character of the Ukrainian people . . . has been the driving factor. . . . The collapse of Afghanistan's military and government came as a surprise to many Americans. . . . Only someone who understood the human side of war—as Pyle certainly did—could have predicted that collapse." —Elliot Ackerman, The Atlantic

"The welcome republication of Brave Men . . . demonstrates why [Pyle] found such a large and appreciative audience. In sharp, simple prose, Pyle explained to those back home the conditions of life and death on the front. The writing remains fresh and perceptive." —Foreign Affairs

"A classic collection [by] the most beloved war correspondent of World War II . . . Pyle's style is what made him so popular back then, and why he is still worth reading today. He looks at the war from a retail level. He mentioned those he encountered by name, giving their home town, and occasionally their street address. . . . His prose is straightforward and spare, highly readable. . . . The book contains some of Pyle's best writing, including his best-known column, 'The Death of Captain Waskow.' . . . It is a reminder of the best in America back in the 1940s. Yet much of what he writes about still exists in today's small-town and rural America." ―The Epoch Times

"I personally cherish Brave Men for . . . Pyle's descriptions of scenes he witnessed; his simple, unassuming style; and his ability to recognize the humanity in everyone he meets. . . . His eye for detail, what is essentially the eye of a poet, is on full display throughout Brave Men and is a masterclass in how embedded witnesses can convey the truth about an experience that cannot be fully understood unless it is lived. . . . Even though he's been dead for nearly eight decades, Pyle had so much to say about the world we find ourselves living in today." ―David Chrisinger, from the Introduction