The Transit of Venus (Paperback)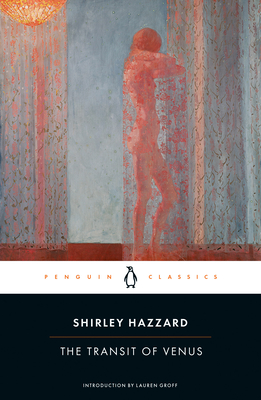 $18.00

In Our Warehouse - Expected arrival in 2-5 days
Description
---
The award-winning, New York Times bestselling literary masterpiece of Shirley Hazzard—the story of two beautiful orphan sisters whose fates are as moving and wonderful, and yet as predestined, as the transits of the planets themselves

A Penguin Classic

Considered "one of the great English-language novels of the twentieth century" (The Paris Review), The Transit of Venus follows Caroline and Grace Bell as they leave Australia to begin a new life in post-war England. From Sydney to London, New York, and Stockholm, and from the 1950s to the 1980s, the two sisters experience seduction and abandonment, marriage and widowhood, love and betrayal.

With exquisite, breathtaking prose, Australian novelist Shirley Hazzard tells the story of the displacements and absurdities of modern life. The result is at once an intricately plotted Greek tragedy, a sweeping family saga, and a desperate love story.
About the Author
---
Shirley Hazzard (1931–2016) was born in Australia but traveled the world during her early years, a result of her parents' diplomatic postings. In 1947, at the age of sixteen, she was hired by British intelligence to monitor the civil war in China. In 1963, she married the writer Francis Steegmuller, who died in 1994. Hazzard wrote several novels, two of which were National Book Award finalists: The Bay of Noon (1971) and The Transit of Venus (1981). She is also the author of two collections of short stories and several works of nonfiction, including the memoir Greene on Capri. Hazzard's final novel, The Great Fire, won the 2003 National Book Award for Fiction and the Miles Franklin Literary Award. 

Lauren Groff (introduction) is the award-winning author of the novels The Monsters of Templeton, Arcadia, and Fates and Furies, and the two short story collections Florida and Delicate Edible Birds. She was named one of Granta's 2017 Best Young American Novelists. She lives in Gainesville, Florida, with her husband and sons.
Praise For…
---
"The Transit of Venus is one of the great English-language novels of the twentieth century. It's difficult to make such a straight, simple claim without wanting to modify or amplify it, but it is. It is greater than any novel by Don DeLillo. It is greater than any work by Alice Munro or Thomas Pynchon. No disrespect to those three indisputable geniuses, or to anyone else whose books have been tagged, however deservedly, with the word masterpiece, but I'm hard-pressed to think of a better novel than Shirley's."
—The Paris Review

"An almost perfect novel . . . Hazzard writes as well as Stendhal." 
—The New York Times

"The new edition is a treat for new fans… Hazzard has never had a big reputation as a political writer, but her anti-authoritarian, anti-imperial, and generally anti-bureaucratic politics hold a special appeal in our own apocalyptic times."
—The New Republic

"The Transit of Venus is complex and luminous, like tapestries of mythological scenes, the craftsmanship admirable with no strand lost or insignificant, the details deliciously precise and the scope panoramic."
—Chicago Tribune Book World

"Shirley Hazzard is a worldly writer with a sense of humor; at one twist of her skewer, the trendy and the shoddy are impaled. The Transit of Venus is an old-fashioned novel of plainest elegance."
—Harper's Magazine

"Nothing gave me as much happiness as Shirley Hazzard's The Transit of Venus. Hazzard's prose is magic on the page, somehow at once surgical and symphonic . . . All the sentences are . . . small masterpieces that amount to a large one. Read it now, so you can read it again soon."
—Tad Friend, The New Yorker

"In The Transit of Venus, [Hazzard] brings a clarity and steeliness reminiscent of classical tragedy to her material—an extraordinary achievement. The sense of fatality and patterning in this flawlessly constructed novel is strong."
—The Independent

"A luminous novel . . . almost without flaw. Aphoristic and iridescent, her language turns paragraphs into events."
—The Washington Post Book World

"An impressive, mature novel, full and satisfying . . . The richest fictional repast I have had in a long time."
—Doris Grumbach, Los Angeles Times

"The Transit of Venus is astronomical: as sharp, remote and dazzling as a celestial body. To read Shirley Hazzard's masterpiece for the first time is to be immediately submerged into a world in which language and character carry the reader along, gasping, in a current too strong to fight. To read the novel for the second, third, even the nth time, is to see Hazzard's careful orchestrations of echo and rhythm, her quiet deployment of foreshadowing and omniscient irony, and to be astonished anew . This is a book—like George Eliot's Middlemarch, Virginia Woolf's To The Lighthouse, Penelope Fitzgerald's The Blue Flower—that I have revisited every year since I first discovered it in my early twenties, when I devoted my best self to writing fiction. Even after so many reads, this novel fills me with equal parts disquiet and awe."
—Lauren Groff, from the introduction