Who Ate the First Oyster?: The Extraordinary People Behind the Greatest Firsts in History (Paperback)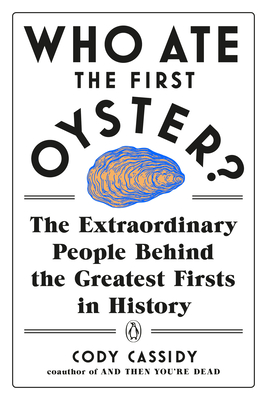 $18.00

In Our Warehouse - Expected arrival in 2-5 days
Description
---
Who wore the first pants? Who painted the first masterpiece? Who first rode the horse? Who invented soap? This madcap adventure across ancient history uses everything from modern genetics to archaeology to uncover the geniuses behind these and other world-changing innovations.

Who invented the wheel? Who told the first joke? Who drank the first beer? Who was the murderer in the first murder mystery, who was the first surgeon, who sparked the first fire--and most critically, who was the first to brave the slimy, pale oyster?

In this book, writer Cody Cassidy digs deep into the latest research to uncover the untold stories of some of these incredible innovators (or participants in lucky accidents). With a sharp sense of humor and boundless enthusiasm for the wonders of our ancient ancestors, Who Ate the First Oyster? profiles the perpetrators of the greatest firsts and catastrophes of prehistory, using the lives of individuals to provide a glimpse into ancient cultures, show how and why these critical developments occurred, and educate us on a period of time that until recently we've known almost nothing about.
About the Author
---
Cody Cassidy is the co-author of the popular science book And Then You're Dead, which was translated into more than ten languages, and a former bookstore clerk in Buenos Aires. While writing Who Ate the First Oyster? he attempted to shave with chipped obsidian like the inventor of the world's first razor, retraced the final steps of an ancient murder victim through the Pyrenees and the Alps, brewed beer by spoiling gruel, and fired a replica of an ancient bow and arrow, among other experiments. He lives in San Francisco.
Praise For…
---
Praise for Who Ate the First Oyster?

"[Cassidy] takes readers on a rapid-fire pop-science tour of historic discoveries and inventions . . . Making history fun is often a challenge, and here Cassidy succeeds. I read this book in one quick sip and imagine it to be a perfect gift book for young and old adults. . . . This casual but thoughtful tour through time is a great way to travel, particularly now, when we're all stuck at home."
—San Francisco Chronicle

"Cassidy tells the stories of individuals over the past thousands and even millions of years whose names will never be known, but whose innovations benefit us to this day."
—New York Post

"A fun and enlightening quick trip through all the clever, stupid, dangerous, and gross human firsts that we've all wondered about."
—Zach and Kelly Weinersmith, New York Times bestselling authors of Soonish: Ten Emerging Technologies That'll Improve and/or Ruin Everything

"In this fascinating and entertaining book, Cody Cassidy has done what might seem impossible: illustrating the identity, life, and death of some of the most momentous—and entirely anonymous—figures in human (and prehuman) history."
—Ryan North, author of How To Invent Everything: A Survival Guide for the Stranded Time Traveler

"Illuminating and entertaining . . . Cassidy humanizes prehistory with wit and a firm grasp of the science behind these anthropological case studies. Enthralled readers will develop a new appreciation for the ancient past."
—Publishers Weekly

"Cassidy embarks on a wide-ranging, far-flung journey of curiosity that easily engages the reader. Chapters are brimming with history that may surprise readers as well as compel them to further investigate."
—Booklist

"A breezy read through millennia of human development."
—Kirkus Reviews