Puffin Graphics: Black Beauty (Paperback)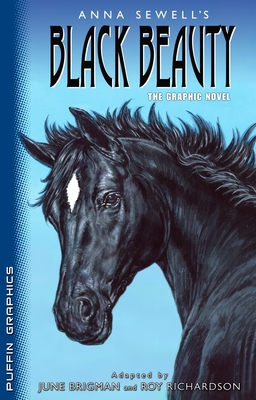 Description
---
The Graphic Novelization of a Classic Tale!

A handsome and sweet-tempered horse, Black Beauty is strong and spirited. His mother warns him that there are bad, cruel men in the world, but Black Beauty sees none of it in his fine, happy home. Until the day when he is sold, when his life changes immeasurably and he finally sees the truth in his mother's words. As he moves from master to master, Beauty's adventures will captivate readers, and June Brigman's wonderful illustrations will capture their imaginations.
About the Author
---
Anna Sewell was born in Great Yarmouth, Norfolk, England, on March 30, 1820. Brought up in a strict Quaker family, Anna developed a strong interest in horses as a young girl. But a crippling bone disease and a fall in 1834 left her an invalid for most of her life. By her mid-thirties she was severely lame and could only get around in a pony cart, and characteristically she would never use a whip on the animal. In 1871, she was told she had eighteen months to live, and by the end of that year, she had begun her book, Black Beauty, hoping it might make people a little kinder to their faithful horses. Although she was seriously ill, she lived long enough to finish her book and see it published in 1877. On April 25, 1878, she died at her home in Old Catton near Norwich, England. Black Beauty, an enormous success from its first appearance, was soon adopted by the Society for Prevention of Cruelty to Animals and used to improve the conditions of horses everywhere.