Just So Stories (Paperback)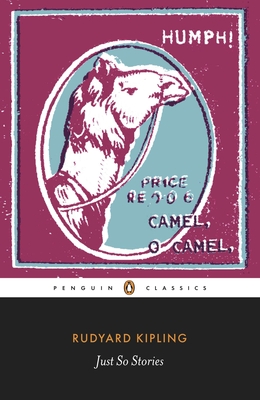 Description
---
A relentlessly inventive collection of myths that betray a deep love and respect for the natural world

A Penguin Classic

The Camel gets his Hump, the Whale his Throat, and the Leopard his Spots in these bewitching stories that conjure up distant lands, the beautiful gardens of splendid palaces, and the jungle and its creatures. Inspired by Rudyard Kipling's delight in human eccentricities and the animal world, and based on bedtime stories he told to his daughter, these strikingly imaginative fables explore the myths of creation, the nature of beasts, and the origins of language and writing. They are linked by poems and scattered with Kipling's illustrations, which contain hidden jokes, symbols, and puzzles.

For more than seventy years, Penguin has been the leading publisher of classic literature in the English-speaking world. With more than 1,700 titles, Penguin Classics represents a global bookshelf of the best works throughout history and across genres and disciplines. Readers trust the series to provide authoritative texts enhanced by introductions and notes by distinguished scholars and contemporary authors, as well as up-to-date translations by award-winning translators.
About the Author
---
Rudyard Kipling (1865–1936) was born in Bombay. During his time at the United Services College, he began to write poetry, privately publishing Schoolboy Lyrics in 1881. The following year he started work as a journalist in India, and while there produced a body of work, stories, sketches, and poems —including "Mandalay," "Gunga Din," and "Danny Deever"—which made him an instant literary celebrity when he returned to England in 1889. While living in Vermont with his wife, an American, Kipling wrote The Jungle Books, Just So Stories, and Kim—which became widely regarded as his greatest long work, putting him high among the chronicles of British expansion. Kipling returned to England in 1902, but he continued to travel widely and write, though he never enjoyed the literary esteem of his early years. In 1907, he became the first British writer to be awarded the Nobel Prize.

Jan Montefiore (editor) is a professor of twentieth-century English literature at the University of Kent. She is the author of Men and Women Writers of the 1930s (1996); Arguments of Heart and Mind: Selected Essays 1977-2000 (2002); Feminism and Poetry (3rd edition, 2004); and Rudyard Kipling (2007). 

Judith Plotz (introducer) teaches at George Washington University. Her most recent book is Romanticism and the Vocation of Childhood (2001).
Praise For…
---
By the Winner of the Nobel Prize in Literature