The Three Musketeers: An Abridgement by Lord Sudley (Puffin Classics) (Abridged / Paperback)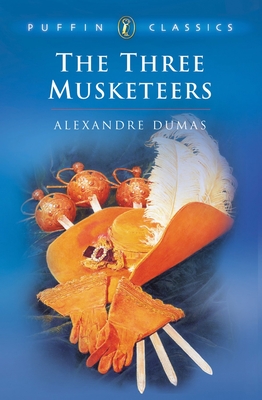 Email or call for price.
Not Available at This Time
Description
---
The famous swashbuckling adventure
When hot-blooded young d'Artagnan comes to Paris to seek his fortune, he finds himself challenged to a duel with not one, but three of the King's Musketeers. But Athos, Porthos and Aramis are to become his greatest friends, and companions in dangerous adventure when he becomes embroiled in the intrigues of the Court and the beautiful, evil Lady de Winter. This edition has been specially abridged for Puffin Classics.
About the Author
---
Alexandre Dumas was born July 24, 1802, at Villiers-Cotterets, France, the son of Napoleon's famous mulatto general, Dumas. Alexandre Dumas began writing at an early age and saw his first success in a play he wrote entitled Henri III et sa Cour (1829). A prolific author, Dumas was also an adventurer and took part in the Revolution of 1830. Dumas is most famous for his brilliant historical novels, which he wrote with collaborators, mainly Auguste Maquet, and which were serialized in the popular press of the day. His most popular works are The Three Musketeers(1844), The Count of Monte Cristo (1844-45), and The Man in Iron Mask (1848-50). Dumas made and lost several fortunes, and died penniless on on December 5, 1870.
Robin Waterfield is a graduate of Manchester University and studied Greek philosphy at King's College, Cambridge. He is currently writing a major biography of Kahlil Gibran.
Praise For…
---
"I do not say there is no character as well-drawn in Shakespeare [as D'Artagnan]. I do say there is none that I love so wholly."
—Robert Louis Stevenson