How People Learned to Fly (Let's-Read-and-Find-Out Science 2) (Paperback)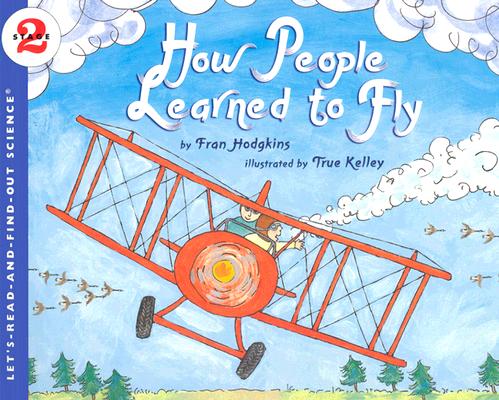 $6.99
Email or call for price.
Description
---
Read and find out about flying before the airplane in this colorfully illustrated nonfiction picture book.
People have taken dangerous risks trying to fly. Some inventors built wings for their arms and flapped them like birds. Others tried to fly with balloons or tried to glide with the wind. This book describes the creative, fascinating, and wacky experiments that people tried before the airplane was invented.
This is a clear and appealing science book for early elementary age kids, both at home and in the classroom. It's a Level 2 Let's-Read-and-Find-Out, which means the book explores more challenging concepts for children in the primary grades. The 100+ titles in this leading nonfiction series are:
hands-on and visual
acclaimed and trusted
great for classrooms
Top 10 reasons to love LRFOs:
Entertain and educate at the same time
Have appealing, child-centered topics
Developmentally appropriate for emerging readers
Focused; answering questions instead of using survey approach
Employ engaging picture book quality illustrations
Use simple charts and graphics to improve visual literacy skills
Feature hands-on activities to engage young scientists
Meet national science education standards
Written/illustrated by award-winning authors/illustrators & vetted by an expert in the field
Over 130 titles in print, meeting a wide range of kids' scientific interests
Books in this series support the Common Core Learning Standards, Next Generation Science Standards, and the Science, Technology, Engineering, and Math (STEM) standards. Let's-Read-and-Find-Out is the winner of the American Association for the Advancement of Science/Subaru Science Books & Films Prize for Outstanding Science Series.
About the Author
---
Fran Hodgkins is the author of The Orphan Seal, winner of the Henry Bergh Children's Book Award, presented by the American Society for the Prevention of Cruelty to Animals. This is Fran Hodgkins's first Let's-Read-and-Find-Out Science book. She lives in Maryland.
True Kelley has illustrated many favorite books for children in her fun-filled watercolor style, including several in the Let's-Read-and-Find-Out Science series. She and the author previously collaborated on What Makes a Magnet? and What the Moon is Like?
True Kelley lives in Warner, New Hampshire.