Others Were Emeralds: A Novel (Paperback)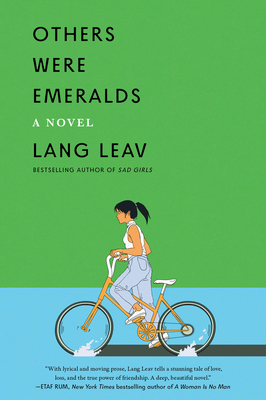 $17.99

In Our Warehouse - Expected arrival in 2-5 days
Description
---
"Others Were Emeralds kept me on the edge of my seat from beginning to end. With lyrical and moving prose, Lang tells a stunning tale of love, loss, and the true power of friendship. A deep, beautiful novel." — Etaf Rum, New York Times bestselling author of A Woman is No Man
Internationally acclaimed poet Lang Leav's debut adult novel combines her poetical lyricism and emotional acumen to create an enthralling coming of age narrative set against the backdrop of anti-Asian sentiment sweeping Australia in the late 90's. A stirring portrayal of guilt, loss, and memory, Others Were Emeralds explores the inherent danger of allowing our misconceptions to shape our reality.
What comes first, the photograph or the memory?
The daughter of Cambodian refugees, Ai grew up in the small Australian town of Whitlam populated by Asian immigrants who once fled war-torn countries to rebuild their shattered lives. It is now the late '90s and despite their parents' harrowing past, Ai and her tightknit group of school friends: charismatic Brigitte, sweet, endearing Bowie, shy, inscrutable Tin, and politically minded Sying, lead seemingly ordinary lives, far removed from the unimaginable horrors suffered by their parents.
But that carefree innocence is shattered in their last year of school when Ai and her friends encounter a pair of racist men whose cruel acts of intimidation spiral into senseless violence. Grappling with the magnitude of her grief at such a young age, Ai leaves Whitlam for college before her trauma has a chance to fully resolve. 
In her second year of college Ai suffers a mental health crisis, driving her back home to Whitlam, a place she swore never to return. There, she reconnects with those she left behind and together they are compelled to look back on the tragedy that shaped their adolescence and examine the role they may have unwittingly played.
About the Author
---
Novelist and poet Lang Leav was born in a refugee camp when her family were fleeing the Khmer Rouge Regime. She spent her formative years in Sydney, Australia, in the predominantly migrant town of Cabramatta. Among her many achievements, Lang is the winner of a Qantas Spirit of Youth Award, Churchill Fellowship and Goodreads Reader's Choice Award. 
Her first book, Love & Misadventure (2013) was a break out success, and her subsequent poetry books have all been international bestsellers. In 2016, Lang turned her attention to fiction, and her debut YA novel Sad Girls shot to #1 on the Straits Times and other bestseller charts internationally. 
Praise For…
---
"I want to read everything Lang writes! Others Were Emeralds kept me on the edge of my seat from beginning to end. With lyrical and moving prose, Lang tells a stunning tale of love, loss, and the true power of friendship. A deep, beautiful novel."
— Etaf Rum, New York Times bestselling author of A Woman is No Man
"Leav's coming-of-age debut is poetic and lyrical, her prose rich in beautiful imagery. She tenderly explores grief, trauma, and love as Ai reflects on her past and makes sense of it in order to move forward." — Booklist
"A heartrending novel … Leav skillfully captures the details of senior-year high school life, but is even better in depicting Ai's parents' stories of surviving war and persecution and Ai's teenage experiences with microaggressions and outward racism. It's a resonant portrayal." — Publishers Weekly
"A moving novel about healing, friendship, and combating the idea that history is bound to repeat itself, Others Were Emeralds will leave readers touched." — Shondaland 
"Few writers can distill the yearnings of the human heart quite like novelist and poet sensation Lang Leav. Whether she's conjuring the intensity of first love or summoning the dull ache of heartbreak, Leav's work hums with humanity." — futurewomen.com
"Others Were Emeralds is rich with lush descriptions and an unmistakable sense of place . . . there's a beautiful specificity in Leav's evocation of life as a second-generation Cambodian-Australian." — Books + Publishing
"Self-discovery, creativity, intense and volatile relationships, feeling like the world is opening up before you at one moment and crashing down around you the next – all of these teenage experiences are beautifully depicted in Others Were Emeralds. But at the same time being Asian in '90s Australia means that for Ai and her friends these rites of passage are tangled up with experiences of racism, isolation, and trauma. I thought the way that Leav wove all of this together whilst striking a delicate balance between darkness and light was impressive and moving." — Readings
"A book you'll want to read again and again." — Amerie's Book Club
"A delicate, moving coming-of-age tale. . . .  and a mature, poetic reflection on innocence and traumatic experience." — The Sunday Morning Herald