Homebodies: A Novel (Hardcover)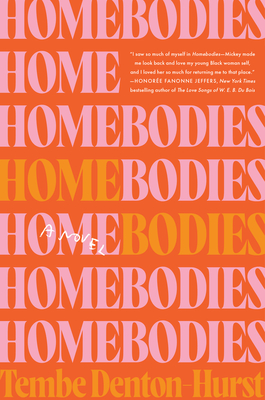 $30.00

In Our Warehouse - Expected arrival in 2-5 days
Description
---
"[A] sharp, charming and passionate debut." —New York Times Book Review
A Most Anticipated Book of 2023 by Elle, USA Today, Bustle, Ebony, Harper's Bazaar, PopSugar, New York Post, The Skimm, and The Millions.
A Best LGBTQ Book of 2023 by Esquire, Vogue, them, and Cosmopolitan
Urgent, propulsive, and strikingly insightful, Homebodies is a thrilling debut novel about a young Black writer whose world is turned upside down when she loses her coveted job in media and pens a searing manifesto about racism in the industry.
Mickey Hayward dreams of writing stories that matter. She has a flashy media job that makes her feel successful and a devoted girlfriend who takes care of her when she comes home exhausted and demoralized. It's not all A-list parties and steamy romance, but Mickey's on her way, and it's far from the messy life she left behind in Maryland. Despite being overlooked and mistreated at work, it seems like she might finally get the chance to prove herself—until she finds out she's being replaced.
Distraught and enraged, Mickey fires back with a detailed letter outlining the racism and sexism she's endured as a Black woman in media, certain it will change the world for the better. But when her letter is met with overwhelming silence, Mickey is sent into a tailspin of self-doubt. Forced to reckon with just how fragile her life is—including the uncertainty of her relationship—she flees to the last place she ever dreamed she would run to, her hometown, desperate for a break from her troubles.
Back home, Mickey is seduced by the simplicity of her old life—and the flirtation of a former flame—but her life in New York refuses to be forgotten. When a media scandal catapults Mickey's forgotten letter into the public zeitgeist, suddenly everyone wants to hear what Mickey has to say. It's what she's always wanted—isn't it?
Intimate, witty, and deeply sexy, Homebodies is a testament to those trying to be heard and loved in a world that refuses to make space, and introduces a standout new writer.
About the Author
---
Tembe Denton-Hurst (known on the internet as @tembae) is a book-obsessed beauty and culture writer and author. Currently, she works as a staff writer at New York magazine's The Strategist, where she covers beauty, lifestyle, and books. When she's not writing, Tembe can be found on her couch in Queens, where she lives with her partner and their two cats, Stella and Dakota. Homebodies is her debut novel.
Praise For…
---
"I couldn't put it down."  — Taylor Jenkins Reid, New York Times bestselling author of Carrie Soto Is Back
"I saw so much of myself in Homebodies, and in Mickey's utterly delicious and sometimes aching story. Mickey made me look back and love my young Black woman self, and I loved her so much for returning me to that place."  — Honorée Fanonne Jeffers, New York Times bestselling author of The Love Songs of W. E. B. Du Bois
"Homebodies is a modern marvel—Tembe Denton-Hurst's prose is both intimate and hysterical, inflammatory and elegiac. You'll root for Mickey as she takes on the world, questioning and searching its contours, weaving a story we can't help but find our own worlds inside of. Denton-Hurst has written a warm, brilliant novel that's stunning and poignant; Homebodies is wonderfully witty and full of empathy and entirely original." — Bryan Washington, award-winning author of Memorial and Lot
"Homebodies is a beautiful story on becoming. Denton-Hurst's prose is perfect with an innate attention to detail and astonishing ability to capture the shapes and colors of emotions as she brilliantly illuminates the growing pains of forging one's own path…something which so many of us are still looking to do. This is a deeply felt, assured literary debut by a writer worth watching."  — Nicole Dennis-Benn, author of award-winning novels Here Comes the Sun and Patsy
"Homebodies is a sharp and tender exploration of what it takes to make a place for yourself in a world that has not. Denton-Hurst deftly navigates the line between a knowing despair and an openhearted hope, contrasting the challenges Mickey faces from employers, lovers, and relatives who can't always see or name her value with the strength she draws from learning to see herself and the love that has always been available to her. A captivating and illuminating debut." — Danielle Evans, author of The Office of Historical Corrections
"This novel just gets it right. Maybe it's vivid storytelling or the intersectional approach to queerness, but this novel speaks to queer people of color who often feel isolated, stretched between two communities. Tembe Denton-Hurst balances a critique on white feminism through the lenses of a young, unapologetically Black, queer writer who's searching for her identity outside the bounds of her career, family, and long-term relationship." — Cosmopolitan
"Denton-Hurst dazzles with her stirring indictment of racism in media and its insidious effects on Mickey. . . . Emotionally and politically resonant, this is not to be missed." — Publishers Weekly (starred review)
"Sharp and heartfelt and keenly observed—I devoured this book." — Katie Cotugno, New York Times Bestselling author of Birds of California
"Tembe Denton-Hurst's debut novel astutely captures what it's like to fight for yourself in a world that's stacked against you." — Harper's Bazaar
"In her debut novel, Tembe Denton-Hurst crafts an instantly memorable portrait of a queer, Black twenty-something figuring out how to use her voice in an industry where identity is prized, but only as far as it toes the company line." — them
"In her sharp, charming and passionate debut, 'Homebodies,' Tembe Denton-Hurst showcases an eye for the details that matter. . . . It is this eye for the rhythms and textures of life — of millennial digital media, of the death by a thousand cuts offered by workplace racism, of Maryland suburbia — that makes this novel vivid and inviting." — New York Times Book Review
"Excellent . . . we devoured it."  — The Skimm
"Homebodies is crackling with wit and compulsively readable, but it's also an in-depth examination of the crushing reality that many workers in so-called 'dream jobs' . . . are ultimately expendable to the institutions they devote themselves to." — Vogue
"[A] searing coming-of-age story. . . . Consider it one of the year's must-reads." — Porter 
"While stories about young women working in the high-pressure media industry have always fascinated, few are told from the perspective of Homebodies. . . . Denton-Hurst deftly crafts a story of ambition, identity and love." — W Magazine
"Denton-Hurst's poignant and captivating debut is on its way to becoming one of summer's 'it' books." — Scary Mommy
"Tembe Denton-Hurst's masterful command of the narrative—classical in its shape, contemporary in its textures—makes this sparkling story shine all the more." — Esquire