Double or Nothing: James Bond is missing and time is running out (Paperback)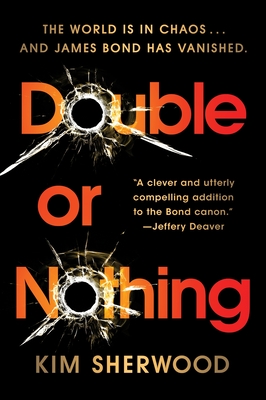 $18.99

Coming Soon - Available for Pre-Order Now
Other Books in Series
This is book number 1 in the Double O series.
Description
---
"I spy … a brilliant thriller! Double or Nothing is a clever and utterly compelling addition to the Bond canon." —Jeffery Deaver, author of Carte Blanche, a James Bond novel
The start of a brand-new trilogy following MI6's Double O agents with a license to kill, that blows the world of James Bond wide open! 
James Bond is missing…
007 has been captured—and perhaps killed—by a sinister private military company. His status unknown. MI6 will do everything in their power to recover their most lethal agent. But in the meantime, the rest of the Double O division has a job to do.
Meet the new generation of spies…
Johanna Harwood, 003. Joseph Dryden, 004. Sid Bashir, 009. They represent the very best and brightest of MI6. Supremely skilled, ruthless, with a license to kill, they will do anything to protect their country.
The fate of the world rests in their hands…
Tech billionaire Sir Bertram Paradise claims he has developed new cutting-edge technology capable of reversing climate change and saving the planet. But can his ambitious promises be trusted, and are his motives as noble as they appear? The new spies must uncover the truth because the stakes could not be higher; for humanity… and for James Bond himself.
Time is running out.
About the Author
---
Kim Sherwood is a novelist and a Lecturer in Creative Writing at the University of Edinburgh. Her award-winning debut novel Testament was released in 2018, and in 2019, Kim was shortlisted for the Sunday Times Young Writer of the Year Award. Her latest novel, A Wild & True Relation, was described by Dame Hilary Mantel as "a rarity – a novel as remarkable for the vigour of the storytelling as for its literary ambition. Kim Sherwood is a writer of capacity, potency and sophistication." Double or Nothing is the first in an acclaimed series of Double O novels expanding the world of James Bond.
Praise For…
---
"More than an addition to the [Bond] canon, Double or Nothing is an expansion of the universe, and an exploration of how the Bond archetype can be channeled into other characters. . . In this subtle but refreshing way, Sherwood manages to shift the perspective. . . What if Bond were Black? What if Bond were a woman? Would that change anything about the essential Bond-ness of Bond? And if not, then what are we waiting for?" — Washington Post
"[Double or Nothing] delivers a thrilling experience on various levels, both honoring tradition and pushing forward into uncharted territory. It promises to offer greater diversity across a new generation of superspies; updates to familiar characters and elements; and a bit of contemporary thematic urgency . . . Sherwood, acutely aware of the traditions she's working within, knows how to call out the usual and re-energize it . . . I've got my eye eagerly on Sherwood's second Double O book, thrilled by what she's accomplished in Double or Nothing and ready to follow her wherever she goes next." — Washington Independent Review of Books
"Filled with characters so real we feel we know them, the novel races through its surprising plot twists like an Aston Martin in high gear. Get this book and clear your calendar—though it won't be for long; I read it in one sitting."  — Jeffery Deaver, author of Carte Blanche, a James Bond novel
"There are plenty of things in this outstanding thriller that will be familiar to Bond fans, while at the same time Sherwood introduces some new elements that make the environment feel fresh and just a little bit different. . . It's the first of a projected trilogy, and volume two cannot come soon enough." — Booklist
"This entertaining James Bond pastiche, the authorized first in a projected trilogy, from British author Sherwood (Testament) introduces a diverse team of new 00 agents. . . [A] refreshing update on the venerable franchise. . .Readers will be curious to see what's next for her team in book two." — Publishers Weekly
"Stylish, explosive, fresh and fun, Kim Sherwood takes one of the world's most beloved series and makes it her own. Faithful, yet entirely original, Double or Nothing is everything you could want in a spy novel." — Chris Whitaker, author of We Begin at the End
"Breathtaking.... A cleverly plotted and absorbing novel with a fantastic cast of fully rounded characters.... I loved it."  — Lisa Ballantyne, author of The Innocent One
"There is sex and violence, glamour and cruelty, action and intrigue.... [Double or Nothing is] A propulsive and immersive novel, one that grips the reader from its dynamic opener to its blistering finale." — Washington Examiner on Double or Nothing
"Bang up to date and action-packed, Kim Sherwood has taken the world of James Bond and turned it on its head."  — Charles Cumming, author of Box 88
"Blistering, breakneck, brilliant. Sherwood's first Double O novel delivers everything you could want and more from a high-octane, high-stakes spy thriller. The world of Bond is in expert hands."  — Tim Glister, author of Red Corona
"Unshackled from the burden of fidelity to Fleming's character, her book feels a lot freer and more spontaneous than the more conventional Bond continuation novels, while still managing to capture something of Fleming's rollicking spirit." — Telegraph (UK)
"A boldly innovative James Bond novel . . . [Sherwood] rises impressively to all the challenges of the formula ― the cliffhangers, the exotic locations, the wry specificity about lifestyle and weaponry brands, the blend of "kiss kiss" and "bang bang" ― while adding ideas such as making Q a quantum computer and putting the climate crisis at her remarkable thriller's center." — Sunday Times (UK)
"If you're looking for a great read that is as slick as it is smart, this book has it all. . . [Sherwood's] done the impossible: Shake up Bond more than any previous reboot has, and make this universe feel urgently relevant to the 21st century, while at the same time capturing the one thing that makes it all so appealing — coolness. No matter what you read this year, nothing will make you feel cooler than Double or Nothing." — Fatherly