Left for Dead: A Novel (Eric Steele #4) (Hardcover)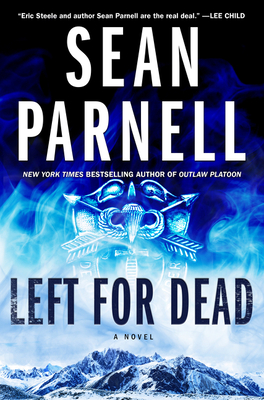 $27.99

In Our Warehouse - Expected arrival in 2-5 days
Other Books in Series
This is book number 4 in the Eric Steele series.
Description
---
Special Operative Eric Steele battles a renegade group of bioterrorists armed with a devastating virus in the fourth pulse-pounding military thriller from the New York Times bestselling author of Outlaw Platoon. 
On a remote mountaintop in western China, Doctor Ai Liang is about to risk everything and defy the Chinese Communist Party. She and her team have created an extraordinary and terrifying new virus, even more deadly than COVID-19, one capable of killing someone in minutes. But her conscience tells her she must destroy the bioweapon before it can bring devastation to millions. And at the very minute she is about to explain her change of heart, she and her team are interrupted by a swarm of violent commandos who attack the lab, kill everyone in sight, and take off with the Gantu-62 virus.
Meanwhile, Eric Steele is on a cleanup mission, about to exact revenge on the group responsible for killing numerous Alphas and forcing the Program to disband. When justice is served, Steele can turn his thoughts to other pressing matters—namely, his long-lost father and his estranged girlfriend, Meg Harden.
But when news of CCP plans to attack U.S. forces reaches the United States, the president calls for the revival of the Program to counter this new threat. Steele is back in action, and he soon learns that the potential CCP move is related to a much more complex plot involving a fanatical Chinese imperialist group—and the stolen Gantu-62 bioweapon. It's up to Steele and his team to find out who is really behind the threat and to stop them before they can unleash the unprecedented strike that could ignite another world war.
About the Author
---
Sean Parnell is a former U.S. Army airborne ranger who served in the legendary 10th Mountain Division for six years, retiring as a captain. He received two Bronze Stars (one for valor) and the Purple Heart. He is a passionate supporter of America's military and is currently serving as an ambassador for the Boot Campaign, a national veteran's charity. He lives with his three children in Pittsburgh, Pennsylvania.
Praise For…
---
"Combat veteran Parnell expertly balances tense, believable action with poignant quiet moments. This superior entry will gratify series fans and ensnare new readers." — Publishers Weekly (starred review) on Left for Dead
"Written in Parnell's effective muscular prose... the book sets a swift pace from the get-go, and the pace doesn't let up until the rousing finale. Parnell creates real, compassionate characters and puts them into a well-developed story, and the Eric Steele series deserves all the recognition it has received." — Booklist on Left for Dead
"In the climax, Steele and Kalidi square off in an exciting, bloody exchange around Washington's National Cathedral… Parnell delivers loads of branded military hardware… and juggernaut plotting. The ending suggests big changes ahead for Steele and the Program. Military action fans will be well satisfied."  — Publishers Weekly on One True Patriot
"Man of War is a breakneck-speed thriller with enough action and combat to satisfy any reader.  Eric Steele is a one-man army, and Sean Parnell uses his background in tactics and weapons to bust into the ranks of the best thriller writers out there." — C.J. Box
"Fast, hard, and effortlessly authentic—both lead character Eric Steele and author Sean Parnell are the real deal." — Lee Child on Man of War
"Man of War is a blockbuster that rages with high-speed thrills and suspense on every page. It has an authentic feel that can only come from someone who truly knows combat. And the intense action, the far-flung settings, and the well-drawn inside-dope on covert operations, all add to create a knockout fiction debut by an author who has arrived on the thriller scene with a roar." — Mark Greaney, #1 New York Times bestselling author of One Minute Out
"A completely gripping story." — Clive Cussler on Man of War
"Falling somewhere between Brad Thor's Scot Harvath and Brad Taylor's Pike Logan, Eric Steele is a formidable new protagonist whom readers will love... If you like conspiracies and bold, larger-than-life characters, Man of War hits fast, hard, and never lets up for a second." — CrimeReads.com
"[A] high-octane thriller… Relevant, relentless, and filled with the kind of authenticity you can only get from someone whose been there and done it, Sean Parnell's One True Patriot is a blistering, action-packed thriller that's perfect for fans of Mark Greaney and Jack Carr." — TheRealBookSpy.com
"Two of the most intense tales of courage under fire I own are Black Hawk Down and Lone Survivor. I now have a third, Outlaw Platoon. It's an absolutely gripping, edge-of-your-seat ride." — Brad Thor, bestselling author of Near Dark
"Outlaw Platoon is expertly told by a man who braved the heat of battle time and time again. An epic story as exacting as it is suspenseful, it reveals the bravery and dedication of our armed service men and women around the world." — Clive Cussler
"At times, I forgot I was reading about a war as I was drawn up in the drama the same way you [are] when reading Krakauer's Into Thin Air . . . This is a book of probing honesty, wrenching drama and courage." — Doug Stanton, author of Horse Soldiers
"Outlaw Platoon put me back on the battlefield again. It's a heartfelt story that shows how very different people can be thrown together in combat and find a way to make it work. Parnell and the soldiers who fought beside him are all courageous heroes—real bad asses." — Chris Kyle, author of American Sniper
"There is never any lack of action, and putting this thriller down is a tall order." — Lima Charlie
"Outlaw Platoon is an exceptional look into the mind of a platoon leader in Afghanistan; Captain Parnell shares his experiences of leadership, loss, and aggressive military tactics. You can really feel the bonds forged between these brothers in arms as the battle plays out" — Marcus Luttrell, author of Lone Survivor
"Sean Parnell continues to impress with his second novel, a timely action thriller that brings the pain in a big way… Readers will enjoy following Eric Steele as he goes to work killing bad guys and trying to save the world." — RealBookSpy
"A real-life drama pitting American riflemen in a tooth-to-eyeball slugfest against the Jihadi war machine's most determined fighters. Parnell's masterful descriptions of modern war take us back to those of Caputo." — Lt. Col. W. Thomas Smith Jr., Military Analyst, and former U.S. Marine
"Outlaw Platoon is a detailed and utterly gripping account of what our soldiers endure on the front lines of America's war in Afghanistan—the frustrations, the fear, the loneliness, the nastiness, the occasional rage, the difficulties of finding and identifying an elusive enemy. Here, in these pages, are the on-the-ground realities of a war we so rarely witness on news broadcasts." — Tim O'Brien, author of The Things They Carried
"Sean Parnell has taken his military and combat experience to tell a great tale that rivals the exciting military fiction writers of our time like Clancy and Thor.  Pulling from real world experience, Parnell crafts a story with Man of War that is realistic, entertaining and suspenseful. It's packed with enough action to keep you on the edge of your seat.  Look out Jason Bourne, Eric Steele has arrived!" — Jason Redman, author of The Trident and former Navy SEAL Lt.
"Another amazing work of art from Sean Parnell. Every page I turned of this masterful thriller gripped me with intrigue and emotion. Sean now lives among the greats such as Brad Thor and Vince Flynn." — Brent Gleeson, author of Talking Point: A Navy SEAL's 10 Fail Safe Principles
"A fast-paced, all-out action-fest… Steele is the kind of adventure hero whom everyone will want to see succeed, and here he's up against antagonists who define sheer villainy… Parnell has jumped to the top of the military-thriller class, right up there with Brad Thor and Vince Flynn." — Booklist (starred review)
"A definite winner... In developing his plot and main character, Parnell writes like a veteran… The main story line here, involving friends turned mortal enemies, is a grabber and will certainly please fans of Brad Thor, Brad Taylor, and Vince Flynn." — Booklist (starred review)
"Setting, dialogue, and details create the ideal backdrop for the tension and intensity...  It's a marvelous debut from a talented writer to keep a watch on." — Steve Berry, author of The Last Order
"Man of War is nonstop action from the first page, a jolt of pure adrenaline. Parnell deploys the full arsenal in this high-stakes thriller." — Joseph Finder, author of The Switch
"Bristling with intrigue, deceit, power and treason—once you pick this book up, you will NOT be able to put it down." — Brad Thor #1 New York Times bestselling author of Near Dark
"Man of War is an international thriller that delivers.  Well written, tightly plotted, fast paced, and full of mind-twisting conspiracies and surprises.  Parnell's combat experience shines through the pages." — Nelson DeMille