The Dutch House CD: A Novel (CD-Audio)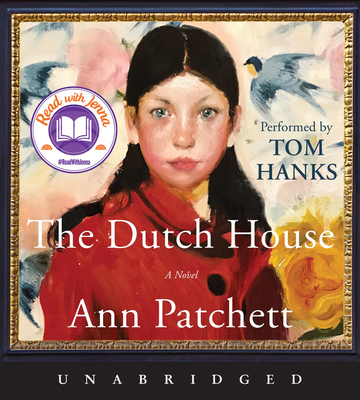 $39.99
Email or call for price.
October 2019 Indie Next List
---
"Meeting the Conroy family and stepping into their elaborate Dutch house—part museum, part home, with all its secrets and charm, comfort and sadness—enthralled me as the mystery unfolded like a gentle call to arms. From poverty to wealth and from wealth to poverty, we see through Danny's eyes the struggle to hold the family together against grief, greed, and the heartbreak of losing all that once bound them. Patchett paints a masterpiece here; there's no looking away. It lingers in your imagination long after the story has been told."
— Diane McGuire, Valley Bookseller, Stillwater, MN
Description
---
Audiobook performed by Tom Hanks.
Finalist for the Pulitzer Prize

New York Times Bestseller | A Read with Jenna Today Show Book Club Pick | A New York Times Book Review Notable Book | TIME Magazine's 100 Must-Read Books of 2019 | 2020 Audie Finalist – Audiobook of The Year & Best Male Narrator
Named one of the Best Books of the Year by NPR, The Washington Post; O: The Oprah Magazine, Real Simple, Good Housekeeping, Vogue, Refinery29, and Buzzfeed
Ann Patchett, the #1 New York Times bestselling author of Commonwealth, delivers her most powerful novel to date: a richly moving story that explores the indelible bond between two siblings, the house of their childhood, and a past that will not let them go. The Dutch House is the story of a paradise lost, a tour de force that digs deeply into questions of inheritance, love and forgiveness, of how we want to see ourselves and of who we really are.

At the end of the Second World War, Cyril Conroy combines luck and a single canny investment to begin an enormous real estate empire, propelling his family from poverty to enormous wealth. His first order of business is to buy the Dutch House, a lavish estate in the suburbs outside of Philadelphia. Meant as a surprise for his wife, the house sets in motion the undoing of everyone he loves.
The story is told by Cyril's son Danny, as he and his older sister, the brilliantly acerbic and self-assured Maeve, are exiled from the house where they grew up by their stepmother. The two wealthy siblings are thrown back into the poverty their parents had escaped from and find that all they have to count on is one another. It is this unshakeable bond between them that both saves their lives and thwarts their futures.
Set over the course of five decades, The Dutch House is a dark fairy tale about two smart people who cannot overcome their past. Despite every outward sign of success, Danny and Maeve are only truly comfortable when they're together. Throughout their lives they return to the well-worn story of what they've lost with humor and rage. But when at last they're forced to confront the people who left them behind, the relationship between an indulged brother and his ever-protective sister is finally tested.
Praise For…
---
"Patchett writes enviable prose--fluid, simple, direct, clear, and fearless."
— Esquire

"Patchett's storytelling abilities shine in this gratifying novel."
— Associated Press

"Patchett is a master storyteller."
— O, the Oprah Magazine

"The Dutch House is unusual, thoughtful and oddly exciting, as well-told domestic dramas can be."
— Columbus Dispatch

"Enchanting."
— PEOPLE Magazine, Best Books of Fall 2019

"This is a serious and poignant story, but also a delightfully funny one."
— Washington Independent Review of Books

"The Dutch House confirms what we've always known: Ann Patchett doesn't write a bad book."
— BookPage

"This finely textured novel is made up of many such small, intimate moments, yet the effect is sweeping, grand, and lavish—and all deeply moving."
— New York Journal of Books

"The Dutch House is beautifully written and often tender."
— The Spectator

"As always, Patchett leads us to a truth that feels like life rather than literature."
— The Guardian

"A big-hearted, capacious novel..."
— Chapter 16

"A great novelist is on top form with this tale of lost family home."
— The Times (London)

"Patchett is at her subtle yet shining finest in this gloriously incisive, often droll, quietly suspenseful drama of family, ambition, and home. . . . With echoes of F. Scott Fitzgerald and in sync with Alice McDermott, Patchett gracefully choreographs surprising revelations and reunions as her characters struggle with the need to be one's true self."
— Booklist

"For Patchett fans who have been waiting for years, it's a worthwhile read."
— Evening Standard (London)

"You won't want to put down this engrossing, warmhearted book even after you've read the last page."
— NPR

"Expect miracles when you read Ann Patchett's fiction."
— New York Times Book Review

"A lavisly gifted writer."
— Los Angeles Times

"The Dutch House has the richness, allusiveness, and emotional heft of the best fiction."
— Boston Globe

"Ann Patchett spins a dark, compelling fairy tale in The Dutch House."
— Entertainment Weekly

"Subtle mystery, psychological page-turner, Patchett's latest is a thriller."
— Washington Post

"Patchett's prose is confident, unfussy and unadorned."
— New York Times

"As always, the author draws us close to her portagonists swiftly and gracefully."
— Wall Street Journal

"Patchett's splendid novel is a thoughtful, compassionate exploration of obsession and forgiveness, what people acquire, keep, lose or give away, and what they leave behind."
— Publishers Weekly (starred review)

"…this richly furnished novel gives brilliantly clear views into the lives it contains."
— Kirkus Reviews (starred review)