VIP: Lewis Latimer: Engineering Wizard (Paperback)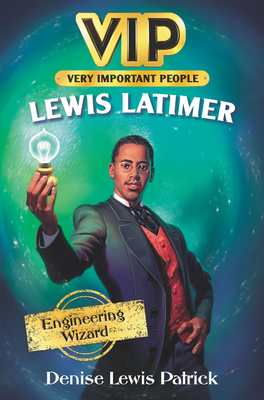 Other Books in Series
This is book number 1 in the VIP series.
Description
---
Get ready to light up the world with Lewis Latimer in this exciting middle grade nonfiction biography. Perfect for fans of the Who Was and Little Leaders series, the books in the VIP series tell the true—and amazing—stories of some of history's greatest trailblazers. Meet the VERY IMPORTANT PEOPLE who changed the world!
Lewis Latimer was one of the greatest inventors of his time. He was also an engineer who transformed the lightbulb at Thomas Edison's company. And he was a gifted artist, too! Experience all the exciting moments in Lewis Latimer's thrilling life in this exciting biography, packed with two-color illustrations and fun facts, like who invented the Super Soaker!
Short and engaging chapters are interspersed with special lists and other information made to order to engage kids, whether they're already biography fans or "have to" write a report for school. Extras include a timeline, a bibliography, and a hall of fame of other successful African American inventors.
The VIP series features inspiring adventures and fun facts about some of history's greatest trailblazers—smart, tough, persevering innovators who will inspire today's kids. Featuring underappreciated historical figures and groups, with a focus on leaders in science and technology, the nonfiction biographies in the VIP series are fun and engaging. Just looking at the cover will make kids want to learn more about these VIPs, and once they dive in they will zoom through stories that read like adventures.
Each book in the VIP series allows your middle grader to experience all the exciting moments in some very important but lesser known lives. These biographies for kids age 9-12 include: VIP: Dr. Mae Jemison: Brave Rocketeer: Engineering Wizard; VIP: Mahalia Jackson: Freedom's Voice; and VIP: Lydia Darragh: Unexpected Spy.
About the Author
---
Denise Lewis Patrick writes chapter books for several big franchises including American Girl and Ready to Read. She also writes novels for middle grade and teen readers. She lives in New Jersey.
Praise For…
---
"Engaging and well researched; approachable for young readers transitioning to nonfiction chapter books." — Kirkus Reviews
"Clearly written, accessible text, illustrated with attractive, black-and-white drawings. An appealing choice for young readers." — Booklist
"Features accessible but richly phrased text and illustrations. The text is honest about Latimer's struggles, but the overall tone is hopeful and inspiring. This biography provides compelling insight into the life of inventor Lewis Latimer and his scientific contributions. A recommended purchase." — School Library Journal