It's Big Sister Time! (My Time) (Hardcover)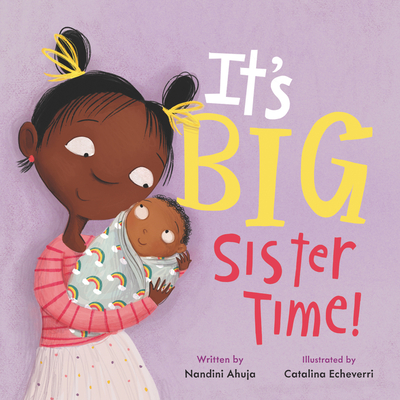 Description
---
Baby's loud. Baby's messy. Sometimes Baby really smells. Maybe Baby just doesn't know the rules? Good thing it's big sister time—she can show Baby how to be the best baby ever!
Told through the eyes of a big sister, this charming hardcover picture book empowers older siblings by showing them that they have very important roles to play in introducing their family's new baby to the world.
From cleaning up messes to learning to share, big sister will teach the new baby everything any baby needs to know. After all, big sister was a baby once, too—and she was really good at it. 
It's Big Sister Time! shows every girl how awesome it is being a big sister. Because as we all know, being a sister RULES!
About the Author
---
Nandini Ahuja is a social worker in New York City. She spends much of her time searching for the perfect doughnut and thinking about magic. Nandini lives with her husband in a cozy apartment, where they drink lots of coffee. 
Catalina Echeverri has been making doodles on paper ever since she can remember. Although originally from Bogotá Colombia, Catalina spent time in Italy, studying graphic design and eating pizza and ice cream every day that she could. When she'd eaten it all, she moved to Cambridge to study children's book illustration. Catalina lives and works out of her home in London, and in her spare time enjoys making upcycling projects with her little daughters. 

Praise For…
---
"This is the perfect book for soon-to-be older siblings." — School Library Journal
"A sweet debut that offers a tongue-in-cheek instruction manual for new big sisters."
— Kirkus Reviews