A Ceiling Made of Eggshells (Paperback)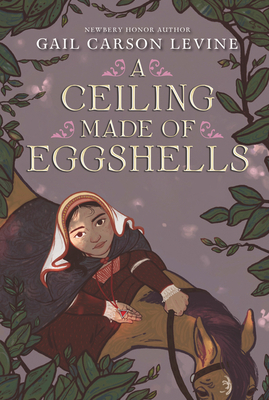 $7.99
Email or call for price.
Description
---
In A Ceiling Made of Eggshells, Newbery Honor-winning author Gail Carson Levine tells a moving and ambitious story set during the expulsion of Jews from Spain, about a young Jewish girl full of heart who must play her own role in her people's epic history—no matter the sacrifice.
Surrounded by her large family, Loma is happy living in the judería of Alcalá de Henares, Spain, and wants nothing more than to someday have a family of her own.
Still, when her intimidating grandfather, her Belo, decides to bring her along on his travels, she's excited to join him. Belo has the ear of King Ferdinand and Queen Isabella, and Loma relishes her adventures with him, adventures that are beyond the scope of most girls of the time. She soon learns just how dangerous the world is for the Jews of Spain, and how her grandfather's influence keeps their people safe.
But the older Loma gets, the more she longs to realize her own dreams—if Belo will ever allow her to leave his side.
About the Author
---
Gail Carson Levine's first book for children, Ella Enchanted, was a Newbery Honor Book. Levine's other books include Ever, a New York Times bestseller; Fairest, a Best Book of the Year for Publishers Weekly and School Library Journal and a New York Times bestseller; Dave at Night, an ALA Notable Book and Best Book for Young Adults; The Wish; The Two Princesses of Bamarre; A Tale of Two Castles; Stolen Magic; The Lost Kingdom of Bamarre; Ogre Enchanted; and the six Princess Tales books. She is also the author of the nonfiction books Writing Magic: Creating Stories That Fly and Writer to Writer: From Think to Ink, as well as the picture books Betsy Who Cried Wolf and Betsy Red Hoodie. Gail Carson Levine and her husband, David, live in a two-centuries-old farmhouse in the Hudson Valley of New York State.
Praise For…
---
"Heart pounding and heart wrenching in equal measure." — Kirkus Reviews (starred review)
"Infusing her title with historical details about costume, food, and customs, Newbery Honoree Levine (Ella Enchanted) deftly conveys the obstacles facing the Jewish community under King Ferdinand and Queen Isabella.... Loma memorably navigates tumult and danger, bravely taking control of her destiny." — Publishers Weekly (starred review)
"Inspired by family history, Levine's latest novel offers a fascinating portrayal of Loma as a shy, conciliatory, intelligent child whose unusual upbringing leads to broad understanding and insights into power. The first-person narrative uses details of daily life to bring the period more sharply into focus for readers, while the appended author's note offers further information. A well-researched historical novel from an accomplished storyteller." — Booklist
"Levine skillfully juxtaposes the larger religious battles taking place in Spain with Loma's dreams for her future. This story of adventure and bravery under unstable circumstances will appeal to mature readers who enjoy historical fiction and tales of courage." — School Library Journal (starred review)
"Loma is a girl very much of her time and place in valuing family and faith above all, and her honest voice, transparent frustrations, and growing agency make for a satisfying character arc against a dark yet intriguing slice of history." — Bulletin of the Center for Children's Books
"Rich descriptions in Paloma's first-person narration make for an immersive experience of her palpably precarious situation." — Horn Book Magazine