Two Little Trains (Hardcover)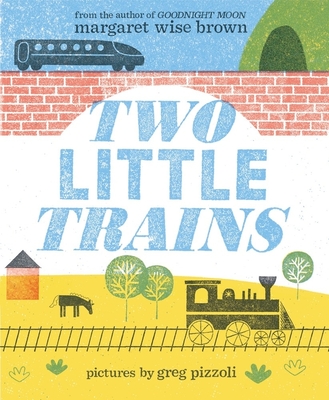 Description
---
"Skillfully designed and composed, Pizzoli's cheerful interpretation is thoroughly modern and charming. Swoonworthy for train lovers and preschoolers alike." —Kirkus (starred review)
The classic picture book from Margaret Wise Brown about two trains and their cross-country journey from east to west, with a bold new look from Geisel Award–winning artist Greg Pizzoli.
Two little trains went down the track,
Two little trains went West.
PUFF PUFF PUFF
CHUG CHUG CHUG
Two little trains to the West.
A streamlined train and a little old train journey through hills and over mountains, crossing rivers and plains, in this treasured story from Margaret Wise Brown, author of Goodnight Moon. Reimagined with bold and vibrant art by Geisel Award–winning artist Greg Pizzoli, this updated edition is perfect for fans of things that go.
Makes for a great baby shower gift!
"Pizzoli's illustrations...add texture, vibrancy, and bring the journey to new life. Toddlers and preschoolers who love trains will delight in the tale while adults familiar with the original book will appreciate the opportunity to introduce it to a new generation."—School Library Journal (starred review)
"The soothing clickity-clack of the late Brown's verse lulls as effectively as when it first appeared 70 years ago."—Publishers Weekly (starred review)
"This is a storytime winner. Blocky clear shapes, vivid colors, and simple designs make each page burst with an energy that will appeal to the smallest child."—Booklist
About the Author
---
Margaret Wise Brown, cherished for her unique ability to convey a child's experience and perspective of the world, transformed the landscape of children's literature with such beloved classics as Goodnight Moon and The Runaway Bunny. Other perennial favorites by Ms. Brown include My World; Christmas in the Barn; The Dead Bird; North, South, East, West; and Good Day, Good Night.
Greg Pizzoli is the author and illustrator of several books, including the Geisel Award-winning The Watermelon Seed, as well as Tricky Vic: The Impossibly True Story of the Man Who Sold the Eiffel Tower and Good Night Owl. He lives in Philadelphia. Visit him online at www.gregpizzoli.com
Praise For…
---
"Skillfully designed and composed, Pizzoli's cheerful interpretation is thoroughly modern and charming. Swoonworthy for train lovers and preschoolers alike." — Kirkus Reviews (starred review)
The soothing clickity-clack of the late Brown's verse lulls as effectively as when it first appeared 70 years ago. — Publishers Weekly (starred review)
Pizzoli's illustrations...add texture, vibrancy, and bring the journey to new life....Toddlers and preschoolers who love trains will delight in the tale while adults familiar with the original book will appreciate the opportunity to introduce it to a new generation. — School Library Journal (starred review)
This is a storytime winner…Blocky clear shapes, vivid colors, and simple designs make each page burst with an energy that will appeal to the smallest child. — Booklist