The Ice Monster (Hardcover)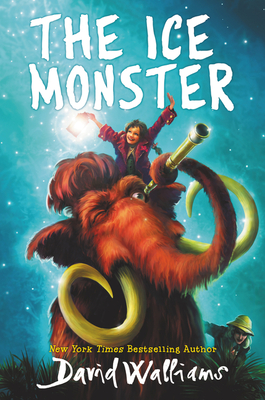 Description
---
Hailed as "the heir to Roald Dahl" by The Spectator, the UK's #1 bestselling children's author, David Walliams, will have fans of Stuart Gibbs and Gordan Korman in stitches!
David Walliams burst on to the American scene with his New York Times bestseller Demon Dentist, and now he's bringing his signature humor to this story of a ten-year-old orphan and a 10,000-year-old mammoth.
When Elsie, an orphan on the streets of Victorian London, hears about the mysterious Ice Monster—a woolly mammoth found at the North Pole—she's determined to discover more....
Luckily, a chance encounter brings Elsie face to face with the creature, sparking the adventure of a lifetime—from London to the heart of the Arctic!
About the Author
---
David Walliams is the New York Times bestselling author of Demon Dentist, The Midnight Gang, and Grandpa's Great Escape. His novels have sold over eighteen million copies worldwide and have been translated into over fifty-three languages. David's books have achieved unprecedented critical acclaim—with many reviewers comparing him to his all-time hero, Roald Dahl. In addition to being a bestselling author, David is an actor, comedian, and television personality. In 2017, he was awarded an OBE for services to charity and the arts. He lives in the UK.
Tony Ross has illustrated many favorite books for children, including Lynne Reid Banks's Harry the Poisonous Centipede titles, the popular series about extra-terrestrial teacher Dr. Xargle by Jeanne Willis, and the Amber Brown books by Paula Danziger. Tony Ross lives in Cheshire, England.
Praise For…
---
"A chaotic slapstick comedy."
— Publishers Weekly

PRAISE IN THE USA FOR GRANDPA'S GREAT ESCAPE: "A realistic and touching relationship. Ample illustrations from the always splendid Ross will keep the pages in this plump volume turning. A Dahl-esque tale."
— Kirkus Reviews

"While the irreverent wit will keep readers engaged, the surprising tenderness in the relationship between Jack and his ailing grandfather is what makes this book truly shine. A darkly humorous tale with a surprising amount of heart."
— School Library Journal

PRAISE IN THE USA FOR DEMON DENTIST: "A Brit-flavored romp that combines moments of intense terror and bracing courage with biting satire."
— Kirkus Reviews

"A Dahl-esque mix of humor and horror that will appeal to fans of both."
— Bulletin of the Center for Children's Books

"A goofy, gory, outlandish tale of deep evil and terrible tooth-rot—and sweetness of heart. Kids who enjoy humorous gross-out horror will definitely want to book an appointment of their own with the Demon Dentist."
— Wall Street Journal

"Dahl-esque in the extreme…Frenetic humor for middle grade fans of the funny and fearsome."
— School Library Journal

"Ross's energetic drawings and some playful use of typography bring additional drama and humor to the story. The story's comedy is nicely counterbalanced by the poignant bond between Jack and Grandpa."
— Publishers Weekly

UK PRAISE FOR DAVID WALLIAMS: "No one has any business being as talented as David Walliams. He is the heir to Roald Dahl—and that's saying a lot."
— The Spectator

"Unlike other celebrity authors, Walliams can write; his energetic fairytale will be relished."
— The Times (London)

"The joy of David's books are that he completely understands how children think and feel and is never ever patronising."
— The Sun (UK)

"Further proof that Walliams has become a master storyteller. Walliams manages to infuse his novels with genuine wit and sly commentary."
— Heat Magazine

"Comedian David Walliams has taken the publishing world by storm."
— The Metro

"A triumphant mix of wit and warmth."
— Telegraph

"A great comic tale—Walliams is a natural wit."
— Evening Standard (London)

"Walliams's books will become classics."
— The Guardian