Hell's Gate: A Thriller (Mass Market)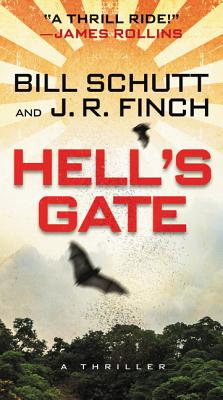 Email or call for price.
Not Available at This Time
Description
---
"Will haunt you long after you put the book down." — James Cameron, director/writer/explorer
1944. As war rages across Europe and the Pacific, Army intel makes a shocking discovery: a three-hundred-foot Japanese submarine marooned and empty, deep in the Brazilian interior. A team of Army Rangers sent to investigate has gone missing and the military sends Captain R. J. MacCready to learn why the Japanese are there—and what they're planning.
Parachuting into a mist-shrouded valley beneath a two thousand foot plateau, Mac is unexpectedly reunited with fellow scientist and friend Bob Thorne, presumed dead for years. Thorne, a botanist, lives with Yanni, an indigenous woman who possesses mysterious, invaluable skills. Their wisdom and expertise will prove lifesaving for Mac as he sets out into the unknown.
Soon, Mac learns of a diabolical Axis plot to destroy the United States and its allies. But there's an even darker force on the prowl, attacking at night and targeting both man and beast. Mac has to uncover the source of this emerging biological crisis and foil the enemy's plans . . . but will he be in time to save humanity from itself?
"Terrific." —Steve Berry, New York Times bestselling author of The 14th Colony
About the Author
---
Bill Schutt is a vertebrate zoologist and author. He is a research associate in residence at the American Museum of Natural History and a professor of biology at LIU-Post. Bill's first book,
Dark Banquet: Blood and the Curious Lives of Blood-Feeding Creatures
, was critically acclaimed by E. O. Wilson and the
New York Times
. His next nonfiction work will explore the natural history of cannibalism. Bill lives with his wife and son in Long Island.
J. R. Finch is a painter, history buff, and cave explorer. He lives in New York City with three cats.
Praise For…
---
"Bill Schutt and J.R. Finch are two of the best adventure writers to hit the scene in a long time. They blend action and science into a read that opens the door to much, much more. My kind of book!"
— Clive Cussler on HELL'S GATE

"Working within chilling scientific plausibility, this two-fisted jungle adventure swerves unexpectedly down a path of heart-pounding suspense. What emerges from the darkness will haunt you long after you put the book down."
— James Cameron, director/writer/explorer on HELL'S GATE

"This one pushes the envelope to the edge and beyond, with tension and imagination that crackles from the first page. A terrific story, terrifically told. So take a walk on the perilous side, if you dare."
— Steve Berry, New York Times bestselling author of The 14th Colony on HELL'S GATE

"The authors adeptly balance science and suspense, and a detailed afterword lays out how much of the story line is based in history. Michael Crichton fans will be pleased that the ending leaves room for a sequel."
— Publishers Weekly (starred review) on HELL'S GATE

"Coauthors Schutt and Finch are experts in the sciences, and the scenes involving the biology behind what's really going on in the jungle-there's a touch of horror in the mix-are fascinating."
— Booklist on HELL'S GATE

"Hell's Gate has everything I love in a book: rip-roaring action, strange-but-authentic science, and characters that pop right off the page. An adventure that harkens to the glory days of H. Rider Haggard and H.G. Wells. Warning: Do NOT miss this debut!"
— James Rollins, New York Times bestseller of The Bone Labyrinth on HELL'S GATE

"Scientifically accurate, and chillingly real; Schutt and Finch amplify the many perils that come with any expedition into the unknown. I dashed through Hell's Gate--cover to cover--with white-knuckle fear of what might be lurking on the next page. Brace yourself, this is no ordinary thriller."
— Darrin Lunde, Author of The Naturalist on HELL'S GATE

"Just think Indiana Jones. For that matter, this yarn evokes more than a few reminders of Stephen King, Joseph Conrad, and Bram Stoker's Dracula. Fast-moving fun for thriller readers who enjoy a bit of horror and seeing bad guys get what's coming to them."
— Kirkus Reviews (starred review) on HELL'S GATE

"Hell's Gate has a little bit of something for everyone and should appeal to a wide and diverse audience. Thrilling and suspenseful, with a touch of creepy and a dash of terrifying, Hell's Gate is a fun read with an original plot and a unique cast of characters."
— The Real Book Spy on HELL'S GATE