Let's Investigate with Nate #2: The Solar System (Paperback)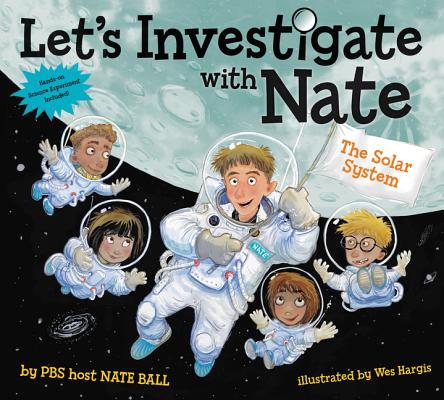 $6.99
Email or call for price.
Description
---
Bill Nye the Science Guy meets The Magic School Bus!
This is the second book in a new STEM-based picture book series from the Emmy Award-winning host of PBS's Design Squad and Design Squad Nation, Nate Ball. With a lively cast of characters and vibrant illustrations by Wes Hargis, it's an adventure in learning! This nonfiction picture book is an excellent choice to share during homeschooling, in particular for children ages 4 to 6. It's a fun way to learn to read and as a supplement for activity books for children.
Ever look up at the sky and wonder how many planets there are? Or want to know how many Earths could fit within the Sun? Take a ride 3.6 billion miles away to answer these questions and more while exploring the solar system with Nate and his team of adventurous scientists! Walk on the moon, fly with a satellite, gaze at comets, and discover why Pluto isn't a planet anymore.
About the Author
---
Nate Ball is the host of the Emmy and Peabody award-winning PBS reality shows Design Squad and Design Squad Nation. An MIT graduate with a master's in mechanical engineering, Nate is also the cofounder of Atlas Devices, a two-time All-American pole-vaulter, and a competitive beatboxer. He lives with his wife in Cambridge, Massachusetts.
Wes Hargis wanted to be a professional dirt miner when he grew up. Unstable market prices for dirt led him to pursue his second love, and he has been an illustrator for more than fifteen years. Mr. Hargis lives with his family (and his dirt) in Arizona.