The Copernicus Legacy: The Serpent's Curse (Paperback)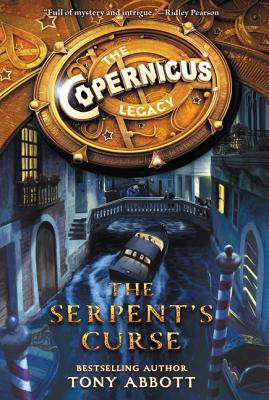 $6.99
Email or call for price.
Other Books in Series
This is book number 2 in the Copernicus Legacy series.
Description
---
Bestselling author Tony Abbott returns with the next full-length book in the Copernicus Legacy series, a globe-trotting adventure packed with more riddles, puzzles, and secret histories. The hunt for Copernicus's first relic sent Wade, Darrell, Lily, and Becca to the far reaches of the world and put them in serious danger. But they never imagined Sara Kaplan—Darrell and Wade's mother—would be kidnapped by the conniving Galina Krause. Now they must race the evil Teutonic Order to find the Serpens relic and rescue Sara before it's too late.
Fans of Rick Riordan and Ridley Pearson will love this epic series, which is filled with suspense and action.
Correlates to the Common Core State Standards in English Language Arts
About the Author
---
Tony Abbott is the author of over a hundred books for young readers, including the bestseling series the Secrets of Droon and the Copernicus Legacy and the novels Firegirl and The Summer of Owen Todd. Tony has worked in libraries, in bookstores, and in a publishing company and has taught creative writing. He has two grown daughters and lives in Connecticut with his wife and two dogs. You can visit him online at www.tonyabottbooks.com.
Praise For…
---
Praise for The Serpent's Curse: "Fast-paced and chock-full of secrets, puzzles and twists." — Kirkus Reviews (starred review)
Praise for The Copernicus Legacy: "Full of mystery and intrigue, this book had me completely transfixed." — Ridley Pearson, New York Times bestselling author of the Kingdom Keepers series
"The Copernicus Legacy takes you on a fantastical journey that is as eye-opening as it is page-turning. With mysteries hiding behind secrets coded in riddle, this book is like a Dan Brown thriller for young readers. The further you get, the more you must read!" — Angie Sage, New York Times bestselling author of the Septimus Heap series
"The Copernicus Legacy has it all: A secret code, priceless relics, murderous knights, a five-hundred-year-old mystery, and a story full of friendship, family, humor, and intelligence." — Wendy Mass, New York Times bestselling author of The Candymakers and Every Soul a Star
"Tony Abbott is such an amazing storyteller, Copernicus should've named a star after him. With codes to crack, clues to unravel, and bad guys to outrun, this is one thrilling, smart, and fun read! I can't wait for the next chapter is this stellar new series." — Chris Grabenstein, New York Times bestselling author
Praise for The Forbidden Stone: "With engaging characters, a globe-trotting plot and dangerous villains, it is hard to find something not to like. Equal parts edge-of-your-seat suspense and heartfelt coming-of-age." — Kirkus Reviews (starred review)
"With word games and rebus puzzles to spare, this whirling first entry in a projected six-part series from Abbott has international intrigue, fast-paced action, entertaining characters, and a healthy helping of science history." — Booklist
"Fast-paced and clever, the novel reads like a mashup of the National Treasure films and The Da Vinci Code." — Publishers Weekly
"The author masterfully pulls all the threads together and creates an engaging thriller enhanced by codes, puzzles, exotic locales, and narrow escapes." — School Library Journal
"This lively escapade will suit fans of the 39 Clues series who are looking for a new puzzle to solve." — Bulletin of the Center for Children's Books
"A sprawling and fast-paced adventure in the great tradition of Robert Ludlum, Ian Fleming, and other masters whose tales loom larger than life. Readers are in for a real treat." — David Lubar, author of Flip, Wizards of the Game, and Hidden Talents